The American Idol schedule is rolling out before Season 14's Hopefuls now that the auditions are over and the Golden Tickets have been handed out. Next stop: Hollywood Week & The Showcase.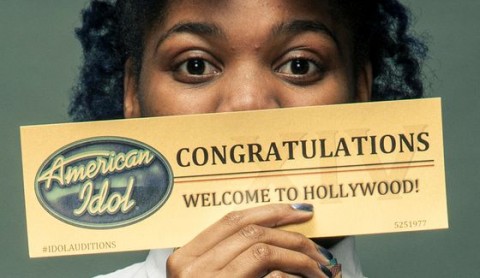 FOX has revealed initial scheduling details for the upcoming two weeks of American Idol 2015 will feature four full, hour long episodes focused on Hollywood and the inevitable stress and drama of group dilemmas and solo performances. These will kick off on Wednesday, February 4, 2015 at 8PM ET/PT followed by a second show next week on Thursday at 8PM ET/PT.
Two weeks later, once the Hollywood rounds are finished up, we'll shift to an all-new round, Showcase Week, where the Season 14 Top 48 singers will face off at The House of Blues in LA. There the remaining singers will again be cut down to the American Idol 2015 Top 24 semi-finalists.
Take a look at these sneak peek photos shared by FOX & the Top 48 Hopefuls as part of Idol's effort to expand their transparency and social media engagement:
click images to see full-size views:
These episodes will air February 18th & 19th with back to back nights of one-hour shows. Following the Showcase round we'll get the first live vote when the Top 24's Girls perform on Wed, Feb. 25th and the Guys will follow the next night on the 26th. Yes, that will pit Idol's first live event up against the Survivor 2015 premiere.
Join us on Facebook, Twitter, and get our Email Updates for more Idol results & coverage all year long. Season 14 is just getting started and we can't wait to see what happens next!
Source: The Idol Pad & MJs Big Blog