Are you ready for the awesome American Idol spoilers for who finally made the season 13 Top 5 finalists? This is it, the last big milestone before the American Idol finale in May. These are the best of the best in the competition and one of these five contestants will be the singer who won American Idol 2014!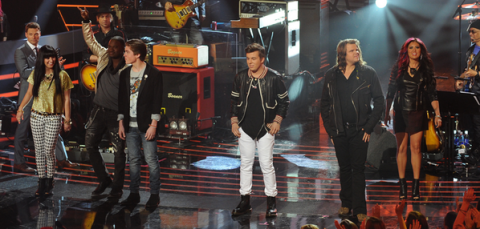 Did your favorite make it through to the American Idol 2014 Top 5? We have the official American Idol results of this week's elimination for you ahead. After you find out who went home on American Idol tonight, and which five finalists will be returning next week, don't forget to tell us what you think of the vote!
Before going into the American Idol 2014 results show this evening, we were pretty much convinced it would finally be time for CJ Harris to run out of his nine cat lives. We really like CJ, we do, but he has the worst consistency of any of the remaining finalists and he just did not blow us out of the water with either of his performances this week.
Our readers also gave CJ Harris the lowest spot on the list this week, with only 3 percent of the vote in our favorites poll from the Top 6 finalists. However, he's been on the bottom in our polls before and still managed to hang on week after week.
So did CJ Harris finally fail to make it through to the next round? Who is your American Idol season 13 Top 5 finalists?
Here are the results of tonight's vote!
Safe:
Bottom Two:
Eliminated: