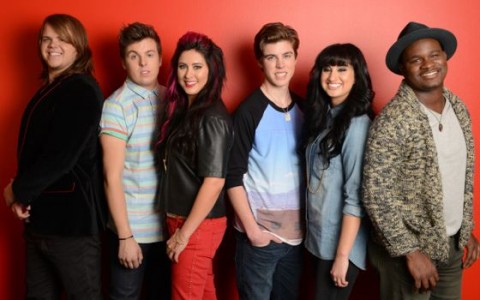 * UPDATE: Find out who went home on American Idol tonight in our elimination show recap!
The American Idol 2014 Top 6 contestants had a pretty good night for the most part last night as they each performed one rock song and one country song.
Standouts Caleb Johnson and Jena Irene should have no problem making their way to safety, but what about the rest? It could be any one of them heading home, but C.J. Harris had the weakest performances of the night, so will his nine lives finally be up? Let's take a look at what I think might happen tonight.
Who Will Go Home On American Idol 2014?
Definitely Safe (I think)
Caleb Johnson. He's never been in danger yet and week after week he's turning out great performances. He's also holding on to the top spot in our poll for the week.
Jena Irene. I think she's come a long way and is positioning herself nicely in the competition. After two great performances last night, I don't think she's anywhere near the bottom.
Most Likely Safe
Alex Preston. I don't see him dipping into the danger zone, even though those lame vote teasers Ryan Seacrest showed us indicated Alex wasn't doing too well with votes. I don't pay any attention to those.
Sam Woolf. I'm struggling whether or not Sam is safe another week or if I should trade him with Jessica. But since she was in the bottom last week and Sam did so well last night, I'm going with this positioning.
Probably the Bottom Two
Jessica Meuse. I don't think she belongs here and if she's not in the bottom, I'll gladly accept I was wrong. But alas, this is where I have to put her. I guess there's a slight possibility Alex and Jessica could trade places. Hmm.
C.J. Harris. If he's not in the bottom two, I give up on this season.
Possibly Going Home
C.J. Harris. He HAS to go home. Has to. Right? Probably not, but I'm going to keep picking him until it happens.
Who do you think stays and goes tonight on American Idol 2014?