Remember a few weeks back when American Idol 2014 was begging for fans to send in song requests via Twitter? Well, it's finally time to find out which of those #idolrequests have been chosen by the American Idol Top 5 contestants to perform!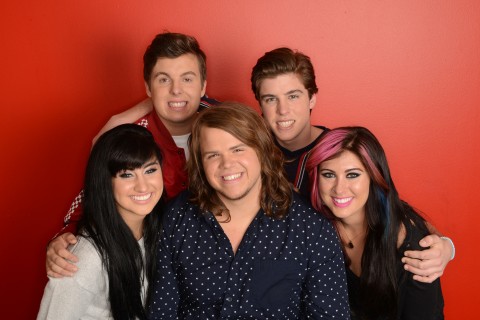 That's right, next week's song theme for the American Idol season 13 Top 5 is America's Request. Each of the finalists will choose two songs to perform from the many thousands of requests tweeted to them over the past few weeks.
If that seems like an incredibly daunting task, it would be… if the American Idol 2014 producers hadn't stepped in to help out. Apparently the singers won't get to choose from just ANY of the requests that were sent in. Instead, they will be given a list of potential song choices culled from all those mass suggestions sent in via Twitter.
So, in other words, it may be America's Request, but the producers are making sure that it is also Producer's Choice in a way, right?
Well, we can't wait to see what the American Idol Top 5 pick from the songs sent in by the fans. We sent quite a few in ourselves, including a long list of things we'd love to hear Caleb Johnson sing. Honestly, if he doesn't sing Meat Loaf this week, we don't think it's going to happen. Wonder if American Idol actually has permission to use Meat Loaf songs? Hmmmm. If not, give us some Queen Caleb!
And heck, let's just go right ahead and have Alex Preston bow to what should be the inevitable and do a Phillip Phillips song. Jena Irene can give us more Evanescence, Jessica Meuse can do Annie Lennox, and Sam Woolf can sing… um…  Justin Bieber?