The American Idol season 13 Top 8 will take the stage again next week, and this time around, there will be no saves! Once again, American Idol 2014 spoilers tell us the song theme for the next round will be very broad. So the finalists will have plenty of songs to choose from, for good or ill.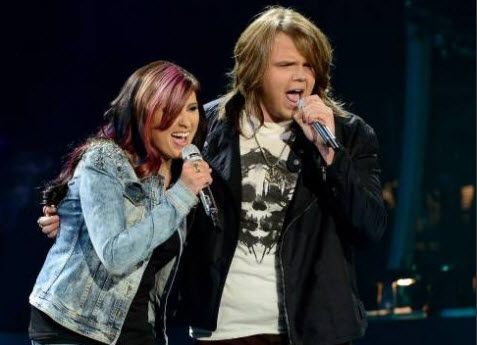 Picking the right song is becoming even more vital as we creep ever closer to the American Idol 2014 finale. One bad performance could send you home, and one great performance could save you from elimination. So far, these really wide open song themes this year have not really improved the song choices, in our opinion. We actually think the contestants might benefit from a bit more guidance when it comes to selecting what to sing each week.
With that said, American Idol spoilers from TV Line reveal the Top 8 will be headed back to the 80's next week and that could prove to be very entertaining. Some of the finalists on the show weren't even born until the 80's were long over!
We can see singers like Caleb Johnson and Jessica Meuse finding this to be a totally comfortable song theme, while younger contestants like Sam Woolf and Jena Irene Ascuitto could find it a bit more challenging. We're pretty sure Malaya Watson will go diva, CJ Harris will do something soulful, and Dexter Roberts will do country, so they'll kind of skirt around the quirky 80's music vibe and probably be able to stay in their comfort zones.
Oh, and if you were wondering about host Ryan Seacrest soliciting fans to send #IdolRequest song requests on Twitter, that's probably for an upcoming theme week and not for 80's night.1