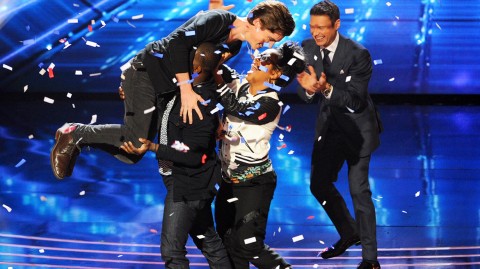 Well, American Idol 2014 has again thrown me for a loop with its results from last night. For some reason Malaya Watson is back in the bottom and Dexter Roberts is safe again. And somehow, Sam Woolf was the one set to go home had the judges not saved him.
So since the judges used the save, that means I'll again be ranking the Top 8. And I have a lot to reconsider after this week's results. So yeah.
American Idol 2014 Top 8 Power Rankings 
8. C.J. Harris. I still think C.J. is the lowest person in the competition. Not just based on his voting standings the past couple of weeks, but also his song choices and performances are not up to par. I think he'll be the next person to go.
7. Sam Woolf. Sam has been struggling with the votes and would've gone home last night had it not been for the judges, but I think he'll ride this wave for at least a week or two and be safe. Usually when the judges save a contestant, their fans get scared and vote in overtime. Plus I think Sam deserves to stick around a bit longer.
6. Dexter Roberts. He might have been safe this week, but I don't see him lasting much longer. I can't bring myself to put him above Malaya, so this is where he lands this week.
5. Malaya Watson. I don't know what happened. She had been going so strong for so long now and then she lands in the bottom three this week. I really am confused by this season. I don't know what to make of Malaya's placement now. I think if she comes on strong again next week she can recover.
4. Jessica Meuse. She was safe yet again, but she's not fairing super well in polls. So despite her consistently flawless performances, something isn't sticking with fans. But I think she'll still be around long enough to possibly make it into the final three, depending on her song choices in the next couple of weeks.
3. Jena Irene. She's finally cracked the Top 3. She went from struggling in the bottom to one of the most popular contestants. She's made some good song choices and had some great performances the past couple of weeks. I'm almost ready to put her above Alex, but not quite yet.
2. Alex Preston. I'm starting to see the appeal of Alex a bit more than I have, but I think Jena is soon going to pass him up. But for now, he holds strong here in this spot.
1. Caleb Johnson. I could be way off with how I think everyone is receiving Caleb, but I couldn't imagine anyone else taking the No. 1 spot after his consistently stellar performances. I don't see him winning American Idol, but I see him definitely as a finalist.
How would you rank the American Idol 2014 Top 8 going into next week?