Tonight on American Idol 2014 the season thirteen's Top 3 contestants return to the spotlight to perform songs for your votes with a set of songs brought together from three different angles.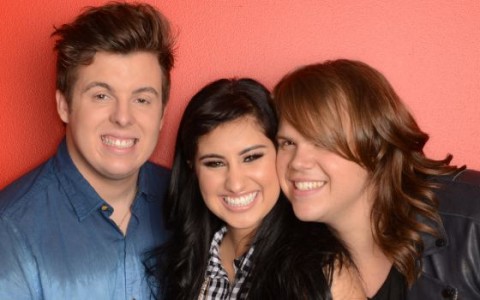 * UPDATE: Watch all of the American Idol Top 3 performances in our recap from tonight's show!
Starting Wednesday at 8PM on FOX we'll see Alex Preston, Caleb Johnson, and Jena Irene perform three songs each with picks coming from the Judges, Randy Jackson, and the finalists' hometowns. We'll also get to see even more of their hometown tours with parades, concerts, and big crowds for all of them.
We've learned what the finalists will be singing for their Hometown Picks and have those Top 3 song spoilers here. As for the Judges and Dawg's pick, we'll watch for those American Idol spoilers coming out later today.
Then on Thursday night there's a special one hour final elimination show where we'll learn who becomes the 2014 Top 2. As an added bonus, Scotty Mcreery will return to perform live on the American Idol stage!
Join us tonight for the show and enjoy the fun with us and all the readers here
click thumbnails to see full-size
American Idol's Top 3 perform tonight: