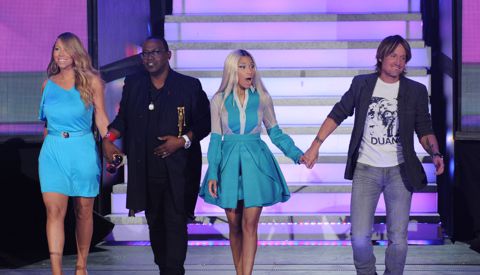 Tonight on the American Idol 2013 finale we'll be treated to a long list of guest performances and returning finalists for one more turn on stage to help fill the two-hour season-ender results show.
According to The Hollywood Reporter all of the judges except for Nicki Minaj will spend time on the stage delivering farewell performances. Mariah Carey is set to perform a medley of her hits with "Vision of Love," "Make It Happen," "We Belong Together," "My All, "Hero," and her recently released single, "#Beautiful." Joining her on stage will be judge Randy Jackson who will be providing bass to Mariah's performances. Mariah's segment was actually taped earlier today.
We'll also get to enjoy a performance by Keith Urban with his new single "Little Bit of Everything." During his announcement of his upcoming time on stage Urban made sure to get in a plea for the chance to come back for American Idol 2014.
Psy will also be there to perform because apparently that's still popular. We'll also get a performance by JLo. Looks like someone was smart to work in post-judging appearances with their contract!
Eliminated finalists Angie Miller and Janelle Arthur will duet with Adam Lambert and The Band Perry, respectively. The top male finalists will be performing with Franki Valli.
No word yet on who Candice Glover and Kree Harrison will perform alongside for tonight's American Idol results show. Just hours away and FOX is still working on nailing down performers? Yikes!
MJ's Big Blog is reporting Jessie J has secretly flown in, presumably for a performance with Angie Miller. There may also be performances by Jennifer Hudson, Pitbull, Aretha Franklin, and Boyz II Men.
Wow, that is a lot of guest performances tonight on American Idol 2013! I wouldn't be surprised if there were even more than what's listed above. The show starts at 8PM on FOX tonight so don't miss the action.