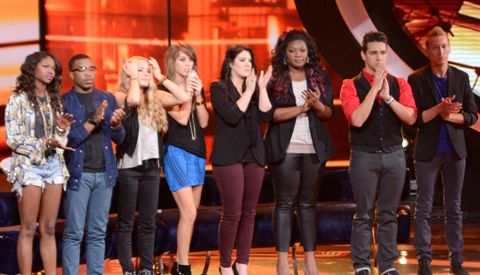 The Top 8 songs leaked for the American Idol 2013 finalists this week as they prepare for Motown Week. Thanks once again to the spoiler leaders over at The Idol Pad for uncovering these hidden details and sharing them with us.
We can go back and compare these rumors for tonight's Top 8 performances to Branden's song recommendations and, unfortunately it seems they didn't take his advice! Here are the current spoilers for tonight's American Idol:
American Idol 2013 – Top 8 Song Spoilers:
Stevie Wonder looks to be the standout winner this time around for the royalty checks with three of his songs included in the Top 8 performance show. There are definitely a lot of great picks here, but the one that stands out as a surprise would be if Candice Glover really goes for "I Heard It Through The Grapevine." Sure, that's a fun song, but unless she finds a surprising arrangement I'm worried it could fall short of her potential this week. Heck, who am I kidding? She could get up there and sing her ABC's and it could end up being the best thing done all week on the Idol stage.
Are you pleased with the song spoilers for the remaining eight finalists? Any guesses on what Devin could be preparing to tackle as his selection remains a mystery?
The judges are going to be pouring over these performances in just a few short hours so we better get ready for what they have to say and what the finalists have to sing!
Source: TheIdolPad