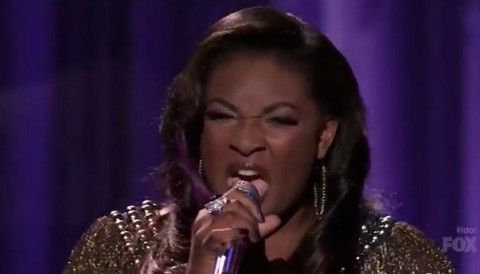 Didn't we tell you TheIdolPad was a top source for American Idol spoilers? Well they're back and letting us know what to expect tonight as the Top 6 singers for American Idol 2013 prepare for a double dose of songs with two turns each.
Below are the spoilers for both of this week's themes for the Top 6. This looks like these songs will provide a good balance with pop hits along with a little old fashion songs. Still seems like a strange catalog to pick, but okay.
"Songs You Wish You Wrote":
The Bacharach-David Catalog:
Amber Holcomb – "I Say A Little Prayer" by Burt Bacharach/Dionne Warwick
Angela Miller – "Anyone Who Had A Heart" by Burt Bacharach/Dionne Warwick
Candice Glover – "Don't Make Me Over" by Burt Bacharach/Dionne Warwick
Janelle Arthur- "I'll Never Fall In Love Again" by Burt Bacharach
Kree Harrison – "What The World Needs Now" by Burt Bacharach/Jackie DeShannon
Lazaro Arbos – "(They Long To Be) Close To You" by Burt Bacharach/The Carpenters
Keep in mind that these are the rumored songs for tonight's American Idol, so it's entirely possible for the list to not be 100% accurate. We'll have to check it tonight and see if everything turns out as detailed above.
Source: TheIdolPad