Wondering when does American Idol start for season 13? We have all the details for you on the American Idol 2014 premiere and season schedule! We've already had a slew of amazing American Idol spoilers for the new season and we can tell you it is looking like the best season in years.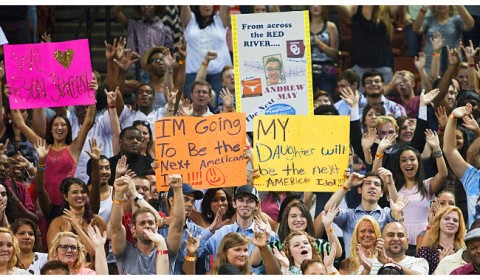 Gone are the crazy American Idol judges who hate each other and fill up the screen with all their drama. This season, the focus of the show is back to what matters most — great talent!
So when does American Idol come back on? We are pleased to tell you the American Idol season 13 two-part premiere takes place this week on Wednesday, January 15 and Thursday, January 16 from 8PM to 10PM ET each night on FOX.
We will get our first chance to see the American Idol 2014 contestants in the auditions rounds, and from what we have seen of them so far, this year's crop of hopefuls is full of terrific talent. We also can't wait to see the American Idol 2014 judges in action.
From the clips we've gotten to see of them behind the judges' table, this might just be one of the best panels in the history of the show. After that, the show will air on Wednesdays and Thursdays after that. However, this season the results shows for the live voting will only be a half hour.
American Idol season 13 auditions took place last year in Salt Lake City, San Francisco, Detroit, Atlanta, Boston, Austin, and Omaha. For a full rundown on which auditions will air when, and what the rest of the season will look like, check out our American Idol 2014 schedule.
For those who just can't wait for the show to begin, we already have American Idol spoilers on who made it to 2014 Hollywood Week, which you can take a peek at here. We also have MAJOR American Idol XIII spoilers on which contestants made the Top 31 for season 13, but read those spoilers at your own risk. Sometimes it does take some of the fun out of it knowing in advance who is going through!
Stay tuned with us all season long for all the latest American Idol 2014 spoilers, news, gossip, recaps and more. We always welcome your comments, thoughts, suggestions and even guest posts from our readers! Give us a yell through our contact page or post in our comments section below!