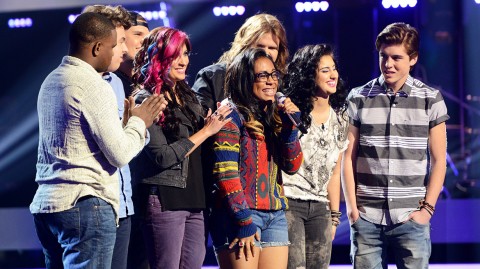 We said goodbye to Malaya Watson last night on American Idol 2014 so now we have the season 13 Top 7.
And so it's time again to do the weekly power rankings and since I have no idea what is going on with this season and why it's all over the place, this will be fun as usual.
American Idol 2014 Top 7 Power Rankings
7. C.J. Harris. This dude must have nine lives. I don't understand how someone can be in the bottom so often but survive the vote. That on top of his performances being all over the place, he lands at the bottom of our list this week.
6. Sam Woolf. Sam will ride the judges' save wave for maybe one more week and then he'll be gone. I think. Unless C.J. has yet another life in the competition. I would like to rank Sam higher, but I think this is where he should be.
5. Dexter Roberts. Dexter has had a few struggles in the competition and America's reaction to him have been very hit and miss. But I think it's safe to put him in the Top 5 as of now.
4. Jena Irene. I'm not sure if Jena is actually ahead of Jessica or not as far as voting goes, but I still think Jessica is a better performer than her. Jena has definitely improved and become a force in the contest, but I still think a slip up could cost her a spot in the contest. These voters are fickle this season.
3. Jessica Meuse. Will she actually be in the final three? I don't know. It's too crazy to tell this season. But I think she's the best overall package in the whole group. So that deserves a top 3 spot in our power rankings.
2. Alex Preston. I wonder if Alex should really be here. But he's never had a bad voting outcome and his performances have all be really solid. Boring, but solid. So I think this is the best place for him.
1. Caleb Johnson. The only thing ever starting to lack with Caleb was his ability to pull back and he did just that this week, so he's golden. He keeps the No. 1 spot in our rankings warm for yet another week. I'll dare to say I think he'll be in the finale.
How would you rank the American Idol 2014 Top 7?