The American Idol 2014 results from Wednesday night's girls performance show won't be revealed until Thursday night, but the official voting has closed so let's make some predictions on who will make it to the Top 5 girls on Season 13.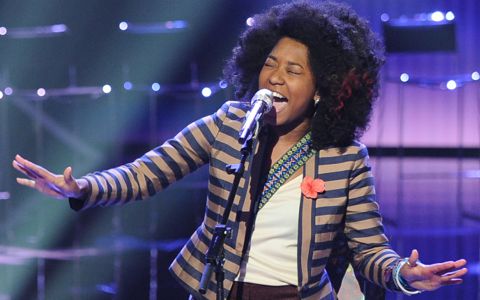 Instead of basing these predictions on our preferences or rankings we will be looking at your votes here in our Idol poll.
After just shy of a thousand votes, which is a terribly small sample size compared to the official voting, there are four clear leaders while two contestants are tied in 5th place.
Topping the charts? That'd be MK Nobilette. She had a strong performance and didn't seem nearly as impacted by nerves as some of the other girls. Malaya isn't far behind MK though and her happy-go-lucky personality could outshine many of the other singers this season.
Here's how the rest of the Top 5 predictions breakdown based on your votes here:
American Idol 2014: Top 5 Girls predictions
Majesty Rose York
All the way at the very bottom is Marrialle Sellars tied with Bria Anai Johnson at just 2% of the votes here. She's a great singer but had a terrible song choice. Don't pick songs made for studio-magic like Katy Perry hits. They just don't translate to live shows like this.
If Marrialle is at the bottom when the official results are revealed then I'd expect her to snag one of the judges' wild card seats.
Who do you think will be in the Top 5 girls this week when Ryan Seacrest dims the lights on Thursday night?