The American Idol Top 14 face a tough round of performances tonight as four singers are set to be sent on the fast track to the Season 15 Top 10 while the balance hit the spotlight for your votes.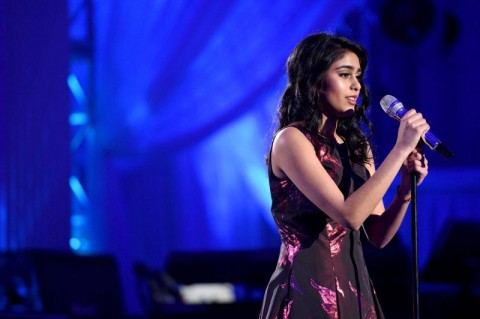 American Idol is only an hour here so it'll be a fast paced episode as we recap the latest American Idol results when it's made official who the Judges are sending on to the next round and bypassing the votes. The remaining ten singers will reprise an earlier performance during tonight's show so we'll be looking for their best of the best and hopefully some improvements that came along the way.
Right away, we get to learn the four judges' picks for the Top 10. First up is Dalton Rapattoni. Then Keith lets us know that Olivia Rox is in. The third spot in the Top 10 goes to Trent Harmon. And the final spot goes to La'Porsha Renae.
Let's get to the performances.
Manny Torres, "Master Blaster." This wasn't bad for Manny. I usually find him pretty boring, but he seemed to be wanting to fight for his spot in the Top 10.
Vote for Manny: 1-866-I436-5701
Gianna Isabella, "I Put A Spell On You." This was a solid effort from Gianna. I still feel like she comes off too young and unseasoned. But the judges love her and the edit she's getting should put her into the Top 10.
Vote for Gianna: 1-866-436-5702
Thomas Stringfellow, "Story of my Life." I don't love this song, but I love what he does with it. He's so unique and such an artist. I do hope America decides to put him through to the Top 10
Vote for Thomas: 1-866-436-5703
Tristan McIntosh, "What Hurts the Most." I didn't know she was a country singer. Ha. Seriously though, how didn't I know? It was nice to hear her actually tackle a country song to see that side of her. Of course, the vocals weren't that great, but I think the song choice was a good one.
Vote for Tristan: 1-866-436-5704
Avalon Young, "Yo (Excuse Me Miss)." It's nice to see that she finally let the makeup people do their jobs, but she still needs to let the wardrobe people do theirs. But I will say this performance was pretty good. This was a great song choice for her because it showed a different side to her. I really liked her tone on this song.
Vote for Avalon: 1-866-436-5705