The American Idol Top 10 featuring 2016's Season 15 finalists were rolled out this week in a two-night event when the combination of both viewer voting and Judges' picks over which singers will move on to the final stage of the Farewell Season.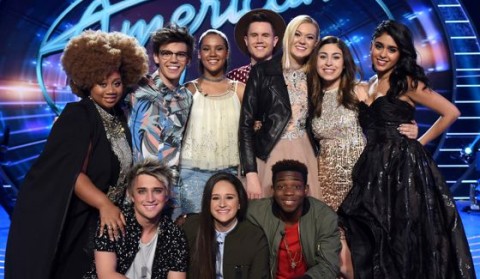 At the top of the hour tonight host Ryan Seacrest took the stage and asked the judges to reveal their four picks for who would be sent on to the Top 10. Then during Thursday's Top 10 performance show the rest of the names were revealed of who moved on and who went home this week.
American Idol 2016 Top 10
While the Top 14 was just announced this week that stage of the show won't last long with Judges set to eliminate six more singers at the top of the hour during next Wednesday's show on February 24, 2016. Those six singers will have one last chance to compete for your votes!
Yes, it seems strange for the American Idol Judges to eliminate ten singers these past two weeks only to immediately pluck out another four without a performance in between, but with only a one hour show on Wednesday that's set to feature Wild Card performances, I don't see how they would have time for it to all fit otherwise.
In addition to the American Idol Top 10's Wild Card performances this week as part of a pre-taped show on Wednesday. Then on Thursday we got our first live show of American Idol 2016 plus the return of Kelly Clarkson.
The original American Idol winner returned on Thursday, February 25th as a guest judge for the Top 10 performances. The Judges pulled up a fourth chair to their table and welcomeed the singer who helped kick off the Idol franchise. Since Clarkson will be very pregnant during the series finale this is likely her last appearance with the show.
So who did you think should be in the Top 10? Judges have picked four of the ten and then viewers will vote in another two from the remaining six American Idol 2016 Top 14 contestants. Share your thoughts!