Back on February 2, I cranked out a fun little predictions post about how I thought American Idol 2016 would play out. Here we are at Top 5, and I must say, I didn't do too badly.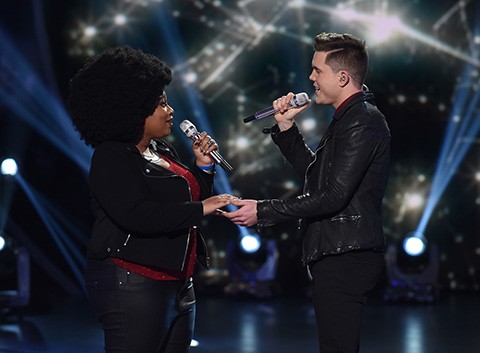 I have three of the Top 5 correct, in fact. That's pretty good, if you ask me. As for the order of that Top 5 prediction, I think I'm a bit off.
Back in early February, I thought Trent Harmon, La'Porsha Renae, Sonika Vaid, Emily Brooke and Thomas Stringfellow would be our Top 5. And I ranked that top 5 like this:
5th place: La'Porsha Renae
4th place: Thomas Stringfellow
3rd place: Emily Brooke
2nd place: Sonika Vaid
1st place: Trent Harmon
While I think it's completely possible for Trent to still win American Idol 2016, I don't think La'Porsha will be going home this week and I certainly don't think Sonika has it in her to make it all the way to second place.
That all being said, I'm a little confused about what's going to happen now. I had a gut feeling about Trent and he hasn't steered me wrong yet, but I'm starting to get the feeling he might be my favorite to win, but not everyone else's.
I'm actually wondering if Dalton and MacKenzie Bourg are getting more votes than him. I do think one thing right now is certain: La'Porsha will be in the final two. But who will stand next to her? I think we're looking at either Trent or Dalton. I'm going to stick with my gut and go with Trent.
But who will win with a La'Porsha and Trent finale? Typically in those situations, it's going to be the guy who takes the crown. But La'Porsha is quite the contender, so I'd definitely never count her out. This is a tough one to call.
So for fun once again, here's how I think the rest of the season could play out:
5th place: Sonika Vaid
4th place: MacKenzie Bourg
3rd place: Dalton Rapattoni
2nd place: La'Porsha Renae (or Trent)
1st place: Trent Harmon (or La'Porsha)