We just aren't sure what to expect in our American Idol results recap tonight! While we've already made our prediction for who got voted off American Idol tonight by the viewers, we honestly think almost anything could happen.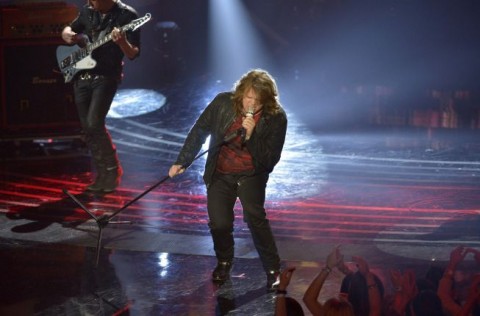 Well, anything but Caleb Johnson or Jena Irene Ascuitto going home. Because, let's face it, if they don't both go to the Top 5 at least after last night's American Idol performances, it would be criminal. Heck, we'll throw Alex Preston into that mix as well. All three of them truly deserve to make the Top 5, and we don't see any of them going home in the American Idol elimination results tonight.
Even though he was almost booted off the show two weeks ago, if not for the American Idol judges' save, we don't think Sam Woolf will probably be the one who was eliminated on American Idol tonight either. He actually had a very strong performance last night and we're seeing a lot of social media Sam love going on. He might even avoid the bottom two or three this week again riding that way of renewed fan attention.
It's possible that CJ Harris could be the one who was voted off American Idol this week instead of Dexter Roberts, but he also had a good performance last night. One of the best he's had all season in our opinion, and according to the American Idol 2o14 judges. So we think he could skate by one more week. But we do think CJ will go home either next week, or the week after.
Of course, it could also be Jessica Meuse finally losing out this evening because too many of her fans are wandering off to vote for other singers. Jess has so much potential, but we feel she's stuck in a rut and may not find her way out in time to make it much farther in the competition. We could see her possibly landing in the bottom two and maybe even going home in the next couple of weeks.
That's all in the future, however, and right now we're all about finding out who went home on American Idol tonight in our recap below!
Well, that was unexpected! Kevin Bacon just opened the show with host Ryan Seacrest's typical line, "This is American Idol!" How many degrees are you from Mr. Bacon?
 Now we have the American Idol Top 7 rehashing their performances over dinner, talking about how they did and what the judges said. Nice to see everyone… but get to the results already!
Oh but no, first we have to have another Ford commercial with the Top 7 finalists. At least they are better than they have been in the past with the terrible musical numbers and silly acting. This one is all about what the Top 7 would do if they had a Mustang for a day. (It's the 50th anniversary of the Mustang this year.) Keith talks about his Mustang, blah, blah, blah.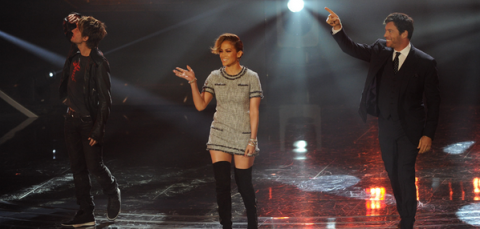 Randy Jackson says some stuff we really don't even care about because it's the same stuff every week. Commercials, commercials, and let's go already! (We're impatient.) Finally, it's time to find out some results! Ryan calls up Jena, Alex, and Dexter to the center of the stage. He announces the first person to be safe tonight is… Jena Irene!
Followed by Alex Preston also in the safety zone! And wait, we also have the first person in the bottom two tonight and it is… Dexter Roberts!
Now we have CJ Harris, Caleb Johnson, Jessica Meuse, and Sam Woolf up to learn their fate. And there is no shock at all when Caleb is immediately declared safe. Also safe is… CJ Harris? Really? We are a little surprised at that honestly. This guy has not just nine lives, he has a hundred! So that means either Jessica Meuse or Sam Woolf will be in bottom two with Dexter.
And we're moving right along to find out which one it will be… and another surprise to us! Sam Woolf is safe and it is Jess going to the bottom two with Dexter. Wow, Jessica is looking quite pissed off.
Well, Jess is one lucky lady because it looks like she'll be around at least another week. The final results are in and it is Dexter who got voted off American Idol tonight!
Safe:
Jena Irene
Alex Preston
Caleb Johnson
CJ Harris
Sam Woolf
Bottom Two:
Dexter Roberts
Jessica Meuse
Eliminated: