Another week, and another finalist goes home in our American Idol results for the Top 7 elimination tonight! Did our prediction for who got voted off American Idol tonight come true? Or is it another week of being surprised at who managed to survive to sing again in the next round?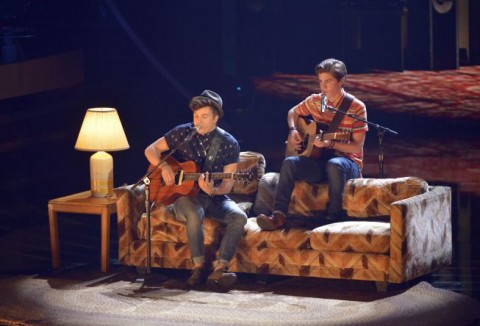 With Sam Woolf having a much improved performance on American Idol last night, and CJ Harris pulling out one of his best showings all season, we predicted the axe might just fall for country singer Dexter Roberts tonight.
Why Dexter as our prediction for the one who went home on American Idol tonight? Well, despite having a good performance last night, we just feel he still hasn't broken out of his 'box' and keeps giving us the same thing every week. As the American Idol judges noted last night, Harry Connick Jr. in particulr, Dexter continues to limit himself  'by singing exactly like the original like he's singing along to the radio' week after week.
However, Dexter did have the strong Southern vote behind him, and that's a hard voting block to beat in any American Idol season. So there was always the chance that CJ Harris might find himself the lowest in the votes tonight, despite managing to somehow slide by for weeks now when we thought he would be the next to go home.
If not Dexter or CJ, we would have had to go for Jessica Meuse or Sam Woolf as the lowest on the totem pole this week. However, we thought Sam was probably still going to be riding his 'judges save' wave of increased loyalty from his fan. As for Jess, we she still has enough potential to suddenly break out of her shell that people would want to keep her around for at least another week.
Of course, the American Idol voting results are always unpredictable, as we saw last week when Malaya Watson went home against pretty much all of the predictions out there.
So who was the singer who was eliminated on American Idol tonight? We have the official results for you below!
Safe:
Bottom Two:
Dexter Roberts
Jessica Meuse
Eliminated: