American Idol 2015 said goodbye to Daniel Seavey last week and based on those performances we'll see another Idol fall this week. So who is most at risk this week and who shined the brightest? Let's take a look.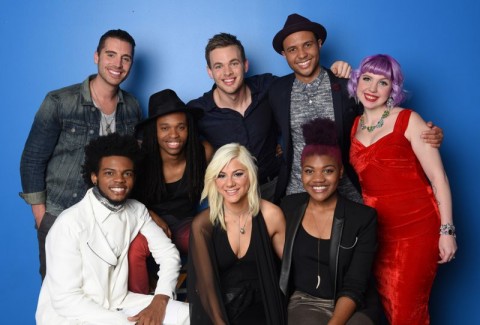 American Idol 2015 Top 8 Power Rankings
1. Clark Beckham. I think I'm ready to swap Clark and Jax. For the past several weeks I've had Jax at the top spot, but I think American Idol fans are back up to their old tricks and are leaning toward the good ole white guy with a guitar (or a piano in this case). But I think if they end up going with this WGWG, it won't be a bad choice. Clark Beckham is a superstar in the making. He's a fantastic challenge and after his performance during Kelly Clarkson week, we know he can officially do anything.
2. Jax. I still think Jax has great potential at winning the season, but she's going to have to do something incredible. She's going to have to show some vulnerability and really surprise us. Right now she's getting into a routine and I think that's why Clark might be taking the lead from her.
3. Joey Cook. I'll never be a fan of Joey, but I respect your opinion America, and it seems to be in favor of Joey. I think she's had a few good moments, but I have not been a fan of her past few efforts. She's not just changing the songs she performs, she's mutilating them. And if that's the kind of thing you like, then good for you. But it's not what I like. So it pains me to put her in the No. 3 spot, but I think that might be where she's at with you guys. Shame on you. Kidding! You have every right to like Joey.
4. Tyanna Jones. I still think Tyanna is the best in the competition. She's the most entertaining and has a great energy and vocal range. I think she's the most natural talent in the contest and I hope she gets a chance to show those who aren't yet seeing what I'm seeing. And I hope I'm right in thinking she's about middle of the pack now and not closer to the bottom. That would be a travesty.
5. Rayvon Owen. Even though Rayvon almost went home last week, the outpouring support he received on Twitter during the first ever public save was remarkable. And I think he's going to ride that wave one more week. So don't expect Rayvon to find himself in the same situation this week. If he does, I'll be surprised.
6. Nick Fradiani. Nick's placement has been the most confusing this season. He could even be at the top of the bottom every week. I don't understand how he and Clark are both remaining in the same competition. They're not that similar musically, but they're close enough to one another when it comes to voting habits of Idol fans. So I'm surprised. I think Nick's got another few weeks left in him, though.
7. Quentin Alexander. Quentin is another who confuses me. He didn't make the initial cut and was placed in the competition as a Wild Card, yet he's been safer week after week. He's always at the bottom of popularity polls and this very list, but he's never been in trouble. I think things might actually change this week.
8. Qaasim Middleton. Qaasim had another slow song moment that I think will definitely seal his fate this week. Idol fans didn't seem to enjoy his performance and I think the judges' save excitement has finally worn off. If Qaasim doesn't go home this week, I'll be shocked.
How would you rank the American Idol 2015 Top 8?