It was a busy week for eliminations on American Idol 2015 as five contestants were cut from the ranks and sent home over the two-night event of performances and results. Here's who we said goodbye to this week on Idol.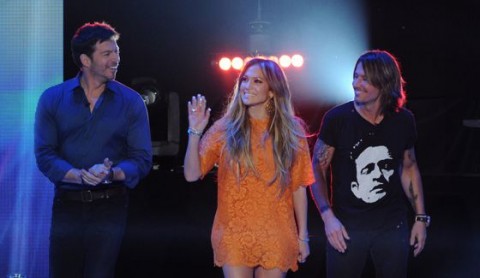 On Wednesday night the Season 14 Top 16 Hopefuls returned to the stage knowing that only ten of them had been voted back in to the competition by America with the Judges' pick of two more Wild Card positions.
The ax fell on the Idol aspirations of Adam Ezegelian, Alexis Gomez, Loren Lott, and Mark Andrew. It was a mixed bag of results that night as many felt Adam and Alexis had run their course on the show while Mark and Loren still had more to offer.
Meanwhile Quentin Alexander and Adanna Duru made it through thanks to the Judges handpicking them for a second shot at the title of Idol winner for 2015. This gave them a spot in the Top 12 performance show that night on Wednesday.
Results for the next round were not far away either as the Top 11 was decided on Thursday night when one more contestant would be eliminated. The Wild Card saves were gone but we learned the Judges Save had indeed returned for Season 14.
At the end of the night it came down to Sarina-Joi Crowe receiving the fewest number of votes from viewers and her journey on American Idol was in jeopardy. Given one more chance to sing for her Idol life the Judges declared they would not use their Save and she was eliminated.
This week we saw Adam, Alexis, Loren, Mark, and Sarina-Joi sent home as the rest of the Top 11 finalists move on for another two-hour performance show next Thursday before the season shifts back to its regular Wednesday night spot.