American Idol's Top 11 contestants came together tonight for the second performance show of the week as one of the finalists was sent home while the other eleven took on their "Party Songs" pick for your votes. See tonight's song list spoilers and get ready.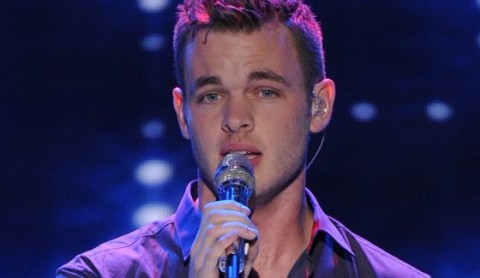 Joining the Top 11 tonight on Idol will be Empire's Jussie Smollett and Bryshere Gray singing "No Apologies" as a guest performance. We will also find out which Season 14 is the first finalist to fall as America's votes are revealed by host Ryan Seacrest.
Yesterday's show featured twelve contestants and ran for one hour. Tonight we'll have fewer contestants and eliminations but in twice the runtime. Yikies. Let's see how these performances go who has earned your vote to move on next week for American Idol.
Want to support your favorite Idol Hopeful make it beyond the Top 11? Check our details on how to vote for American Idol 2015.
We'll be recapping tonight's American Idol right here so keep us refreshed as we share performances, voting details, and results throughout the show. Check out our Idol chat room for more discussions with other fans.
Alright, we are live for the very first time this season as Ryan Seacrest welcomes us to the show and brings out judges Jennifer Lopez, Harry Connick Jr., and Keith Urban. We are ready to get this party started!
Ryan asks for the official American Idol results and out comes Taraji P. Henson from Empire who gives a few teases about their season finale next week. Remember that finale will bump Idol to Thursday only next week.
Rayvon Owen sings "Burn" by Ellie Goulding
Rayvon is the first Top 11 contestant revealed on tonight's show. Scott Borchetta is in the welcome clip and says that Rayvon Owen has a great sense of his abilities, but it's not enough and he's trying to push him to go farther.
Keith Urban is thrilled with the song choice and thinks it was his best yet. Jennifer says it was even better than she expected and agrees that it's his best one yet. Harry wants challenge Rayvon to use the same arc on every performance rather than using the climax at the very end each time.
How to vote for Rayvon
Text: 2 to 21523
Call: 1-866-IDOLS-02
Maddie Walker sings "She's Country" by Jason Aldean
Maddie thinks this song will show a rocker Country side to her and that's what America needs to see. It's working so far and giving Maddie a strong performance that definitely feels much more comfortable than we saw from her weeks ago.
Jennifer says it was a "great job" and is pleasantly surprised by just how strong Maddie Walker's vocals are. Harry's biggest concern is that Maddie focuses on imitating the artists rather than her own interpretation. Keith likes that Maddie was trying to take chances, but worries she was still too concerned with her stage presence. He wants to see her amazing talent come through.
How to vote for Maddie
Text: 4 to 21523
Call: 1-866-IDOLS-04
Joey Cook sings "Fancy" by Iggy Azalea
Joey is out there without her ukulele but she's grabbing at her hair again while mostly holding back on her quirky side. By the end she's got Keith Urban on his feet and the audience roaring.
Harry gives her an A+ for her arrangement that he calls brilliant and says viewers must think she's a star. Keith says Joey Cook has a potency like a moth to the flame while making this song her own. Jennifer thinks this was a smart choice by taking a mainstream song and making it her own.
How to vote for Joey
Text: 10 to 21523
Call: 1-866-IDOLS-10
Now we're getting a break from the Top 11 to get a guest performance by Jussie Smollett and Bryshere Gray. Back to the results we've got… Clark!
Clark Beckham sings "Takin' It To The Streets" by The Doobie Brothers
Clark's intro has Scott saying he's a powerhouse singer and Keith is excited to see what he'll do with this thirty year old song. Come on, Clark. He's back at the piano tonight which says helps him connect with the audience. He's great, but this is still a terrible song choice.
Keith thinks it was cool to get him back behind the piano but wants him to explore his inspiring side as well as just being impressive. Jennifer says she checked with Harry and they agreed that it was technically great on the piano. Harry says it wasn't his favorite performance but he likes how Clark draws his audience in to what he's doing on stage.
How to vote for Clark
Text: 9 to 21523
Call: 1-866-IDOLS-09
Jax sings "Blank Space" by Taylor Swift
Scott thinks Jax represents all the great things from the 80's wrapped up in one contestants. Jax hopes she'll get everything jumping up and down with this anthem song.
Jennifer doesn't think this was the right song for Jax and thinks she was overtaken by the song that she usually gets from her voice. Harry says she can take an old song and making it new or taking a new song and making it different, but here it was just a copy. Keith says he kinda agrees with the other Judges and that he saw her struggling to do her own thing against the song.
How to vote for Jax
Text: 7 to 21523
Call: 1-866-IDOLS-07
Qaasim Middleton sings "Jet" by Paul McCartney & Wings
Scott says Qaasim is one of their best performances although he's not one of the strongest singers. Qaasim Middleton says he wants us to see him behind a guitar so he can show off another dimension to his performances.
Harry doesn't think the performance matched what the song was saying and worries Qaasim is becoming a one-trick pony. Keith simply says "I loved it" and doesn't care what he was singing about. He thinks the guitar helped his singing and it was the best he's done. Jennifer thinks it was a smart "party" song and one of these times we're going to get something very special out of his performance that she knows is in there.
How to vote for Qaasim
Text: 8 to 21523
Call: 1-866-IDOLS-08
Adanna Duru sings "Runaway Baby" by Bruno Mars
Wow, well there goes my elimination prediction. Kudos to Adanna for pulling back from the edge after being voted out last night and here she's got another chance to show America they were mistaken last week.
Keith says that's why they saved her and exactly why she's their Wild Card pick. He loved all her Tina Turner moves. Jennifer thinks Adanna Duru was so much more in control this week and the whole thing was much better this time around. Harry says she was so much better with a great song choice and choreography.
How to vote for Adanna
Text: 12 to 21523
Call: 1-866-IDOLS-12
Tyanna Jones sings "Tightrope" by Janelle Monae
Keith says if anyone can do this song then it's going to be her. Scott thinks Tyanna Jones is a singer well beyond her years and he doesn't see a child when he looks at her performing. She's got Keith and Jennifer on their feet at the end of her song.
Jennifer says Tyanna sparkles on camera and gave her the Goosies tonight. Harry says if he were an Olympic judge he would give her a "10." Keith loves that she wants to be a performer forever and her fantastic attitude that she brings to the stage.
How to vote for Tyanna
Text: 5 to 21523
Call: 1-866-IDOLS-05
Daniel Seavey sings "Happy" by Pharrell
Scott says Daniel can charm a room just with his smile, but soon he'll have to back it up with talent. Harry worries Daniel Seavey will come off as too rehearsed. I'm just surprised that my backup elimination prediction made it through.
Harry says he has studied Daniel's performances and thinks he's incredibly talented with tonight's performance being his most comfortable and strongest yet. Keith thinks he'll make it through the voting this season. Jennifer wonders if the competition is too stiff for Daniel, but thinks it's impossible not to root for him.
How to vote for Daniel
Text: 3 to 21523
Call: 1-866-IDOLS-03
Quentin Alexander sings "Rolling In The Deep"
Scott loves Quentin's style and how it pulls everyone's interest. Keith enjoys when a guy takes a woman's song so he thinks this will be great. Quentin says this Adele song is a big party song back in NOLA and he can't wait to show America what he can do with it.
Keith appreciates how Quentin Alexander turned the song around and made it his own. Jennifer thinks he's always cool and soulful and he did it again tonight. Harry enjoys how Quentin can dig down in to the lyrics but feels like he coasted over the song rather than digging down in to it.
How to vote for Quentin
Text: 11 to 21523
Call: 1-866-IDOLS-11
Nick Fradiani sings "Wake Me Up" by Avicii
Harry says Nick is such a positive and happy guy but with such heavy lyrics he'll be looking to him to bring them up. Scott thinks Nick Fradiani is really good looking, and a good singer, but mostly just really, really good looking.
Jennifer says there is so much emotion and it impacted his vocals, but she thinks it was a great song choice even if it got away from him a little bit. Harry thinks it was a solid performance but still wants Nick to "crack open" and show us what's in there. Keith says it's tough without that band right behind you, but he's confident we'll see him again next week.
How to vote for Nick
Text: 6 to 21523
Call: 1-866-IDOLS-06
That left Sarina-Joi Crowe as the last place contestant this week on American Idol. But wait! There's more and it's a Judges Save if they find her worth of using their one and only redemption card this season. Will they use it this early?
Sarina-Joi Crowe sings "Neon Lights" by Demi Lovato
With no intro video it's a shock to jump from silence to a loud performance, but this is Sarina's last chance and she's not going quietly in to the night on this one.
The Judges looked very stern and I'm just not expecting this to happen for her. Jennifer says this is tough and someone has to go home. No, they will not use the Save.
What did you think of tonight's results and the Top 11 performances? Who were the standouts for you and deserves a spot in the Top 10? Those American Idol results will be revealed next Thursday but we'll have our predictions before that. Find us on Facebook, Twitter, and by Email for more Idol coverage.