We're about to see the American Idol 2015 winner crowned when Clark Beckham and Nick Fradiani return to the Dolby Theatre for one more night of Idol Season 14. Who will take the crown?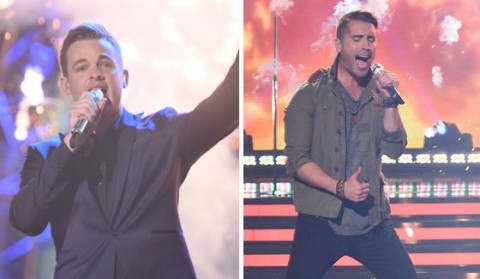 For the better part of the finalist phase of the season I thought we were looking at a Clark vs Jax season finale, but that went out the window last night on American Idol when Jax narrowly lost a spot by just 0.4% of the vote. Those results were incredibly close and a testament to how well these finalists did to move their fans.
Voting ends for American Idol at 9AM PT (12PM ET) this morning so there's still time to support your favorite to become the winner of American Idol 2015, but the bulk of the votes are in and we can start to look at our winner predictions for tonight's finale show.
At the time of publishing your votes in our own poll are amazingly close. Clark leads with 50.5% of the vote against Nick's 49.5% which makes this a dead heat race. Of course our polls aren't official (or Jax would still be there!), but I don't doubt for a moment that Idol's own results may be running this close as well.
Last night Idol Judge Harry Connick Jr. said the first two rounds were a split between Nick and Clark, but Keith Urban said Nick had taken the edge in the final round of the night. Having listened to the Top 3's coronation songs I had expected more from Clark and have to agree that Nick put on the better show in the last step of the Top 2 event.
A Nick win tonight would be an upset from the perspective of our readers who have put Clark in the top spot for all but two of the Top 12 performances, but I think that may be exactly what will happen. Especially now with Jax out of the race I think we'll see more of her fans' votes slide to Nick vs Clark and that could be enough to put him over the edge and crown Nick Fradiani as the American Idol 2015 winner.
This would of course require Nick to overcome the tradition of the powerful South in the American Idol history books. Clark has that over Nick would could be the only edge he really needs. Did Nick pull off a come-from-behind victory or will history prevail tonight?
Both artists have given us a great season of Idol performances and I don't think either will have any trouble converting this exposure to pursuing a successful music career so take heart if your fav doesn't see the confetti fall overhead.