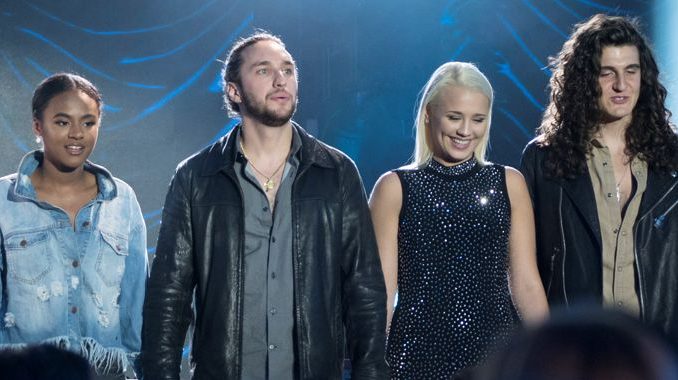 American Idol results are set to be revealed as the first group of the Top 24 semi-finalists have given it their all in the last two nights of performances, but now five of them must be cut short of the live shows. Who was sent home tonight from the Top 24? It's time to find out!
After Sunday's solo performances this group of Hopefuls needed to redeem their positions in the American Idol 2018 competition and this was a great opportunity. Celebrity duet partners arrived and these singers had their chance to deliver.
We'll watch Catie sing with Andy Grammer. Cade takes on INXS with Bishop Briggs. Dominique and Aloe Blacc perform "Wake Me Up!" The list goes on and on so get ready to see all of them tonight on American Idol! Can't wait? Then check our spoilers for the Top 24 duet performances and even more results with the Top 14 spoilers too.
American Idol Results: Top 14 – Round 1
Michael Woodard
Who Was Sent Home From Top 24 – Round 1

Trevor McBane
Dominique Posey
Brandon Diaz
Kay Kay Alexis
Layla Spring
American Idol 2018 continues next Sunday and Monday with the second half of the Top 24 performances and duets followed by another round of elimination cuts. The judges won't have an easy choice with any of these decisions, but once they're done we're on to the live competition shows! Check out the full American Idol 2018 schedule for even more details on what's ahead.
Want more Idol? Join us on Facebook, Twitter, and get our Email Updates for more results & spoilers.