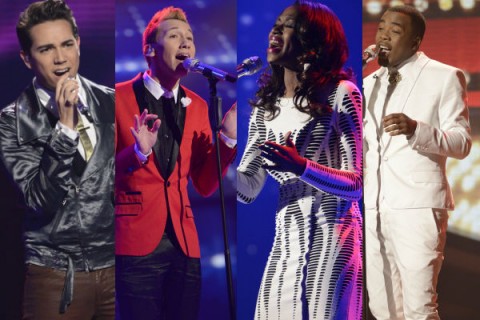 It's time for the American Idol results to be revealed as the Season 12 Top 8 become the Top 7 finalists. While only Ryan Seacrest and production may know the results coming our way we've made some pretty easy predictions for tonight.
Along with the dimmed lights and bitten nails we'll be treated to a big stack of impressive guest performers. We'll be hearing from Idol's own judge, Keith Urban, when he performs his single "Long Hot Summer." Next we'll hear from Katherine McPhee performing with OneRepublic as the guest vocals for their song "If I Lose Myself."
Oh it doesn't stop there though because it's an apparently alumni night on American Idol 2013. Colton Dixon breaks out one of his hits in his return to the Idol stage. Watch Colton's video for his new single "Love Has Come For Me."
Join us tonight at 8PM as we reveal the results in our live blog recap and fill in the blanks below. Here we go! Time to find out who was in the bottom 3 tonight on Idol. I'm assuming no one is surprised that all the guys are in the bottom three.
American Idol 2013 Top 8 – Bottom 3:
Will the Judges' Save be put in to play tonight to save Devin? I'd be shocked, but let's find out… The crowd is going nuts! Mariah is cheering on the crowd to get louder, but Randy announces it was not unanimous and the judges will not use the Save tonight. Wow, I really thought the crowd was going to force the judges hand tonight. Nope.
Who Got Voted Off American Idol Tonight:
Safe Singers & The American Idol 2013 Top 7:
Burnell Taylor
Lazaro Arbos
What do you think of tonight's American Idol results?