We are now down to the American Idol Top 11 this week and rushing rapidly toward the upcoming finale on May 20 & 21. Now that we have a couple of voting results shows under our belt, it's becoming much more clear who the favorites are with the viewers this season. But who will we say was the finalist who won American Idol 2014 when the last votes come in?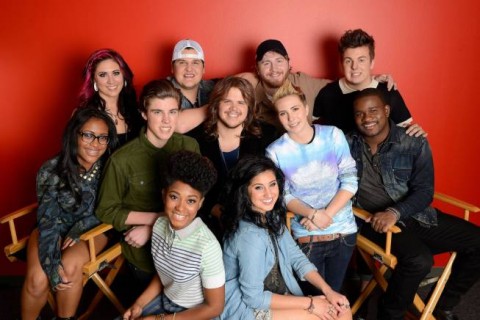 As of this week, the Las Vegas odds still currently put Sam Woolf as the favorite contestant for who wins American Idol season 13 at 3 to 1.  Majesty Rose York, Caleb Johnson, Alex Preston, and Dexter Roberts round out the top 5 favorites to win for the rest of the remaining contestants.
So who will win American Idol 2014 and do the odds mean anything at this point? Well, we personally think the most likely winner is going to be one of the five contestants above. They are leaps and bounds ahead of the rest of the pack both in the American Idol Las Vegas betting odds, and in our reader's polls for the most part as well.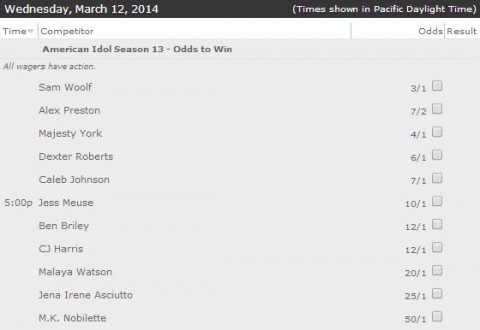 While we're very fond of the rest of the contestants, especially Jessica Meuse and MK Nobilette, it would be a very difficult mountain for them to climb to make it to the top at this point. Actually, we'll be shocked if poor MK survives another week.
At this stage of the competition, if we had to pick one contestant to predict for who wins American Idol 2014, we'd have to give a slight edge to Sam Woolf. He's a WGWG (white guy with guitar), a category that often wins, and he is young, cute and decently talented. He's a formula for getting the powerful tween voting block in particular.
However, we wouldn't count out Alex Preston, Caleb Johnson, Dexter Roberts or Majesty Rose York as potential winners either. And at this stage of the game, one or two big ' wow moment' performances by an underdog could change up the whole game.