Who will win American Idol 2014? Well, at this point in the game it is really anyone's guess who will walk away as the American Idol winner for season 13. Over in Las Vegas, however, they are already taking bets on which finalist will walk away with the grand prize.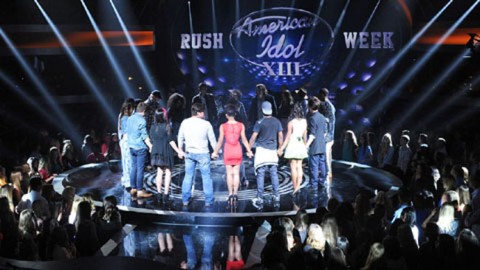 Who wins American Idol 2014 is already a heavy betting topic over in Sin City, and the odds on which finalist will end up on top might just surprise you!
While our current reader polls put Caleb Johnson firmly in the lead as the favorite to beat from the Top 12, the Vegas odds actually rank quite a few other contestants with better odds. Here are the current odds on the finalists still in the competition according to Bovada Sportsbook.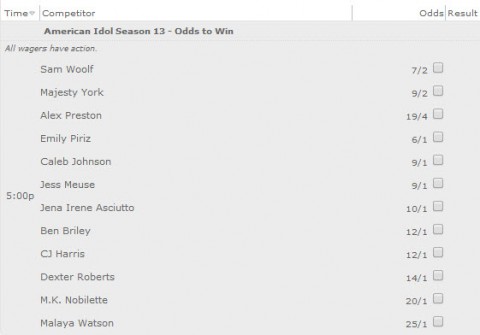 If we were going to pick a potential winner right now from these odds, it looks like Sam Woolf might just be the guy to beat, although Majesty Rose York, Emily Piriz, Caleb Johnson, and Jessica Meuse are all looking pretty good as well.
According to these odds, it looks like MK Nobilette and Malaya Watson are probably the two in the most trouble going into the second week of finals. MK is also one of the lowest scorers in our reader's polls, currently running almost in last place. We fear this could potentially mean MK could very well be the next person who goes home on American Idol this week.
Based on our own polls and the Las Vegas American Idol betting odds, we'd say that Sam Woolf, Caleb Johnson, Majesty Rose York, Alex Preston, Emily Piriz, and Jessica Meuse will all be safe this week with no problem. The rest of the contestants are a bit harder to peg, but if we had to guess, it looks like Malaya Watson or Dexter Roberts will probably end up in the bottom two with MK in the next results show.
Unless, of course, those who are currently at the bottom of the totem pole pull off some incredible performances this week. Then you never know what might happen!