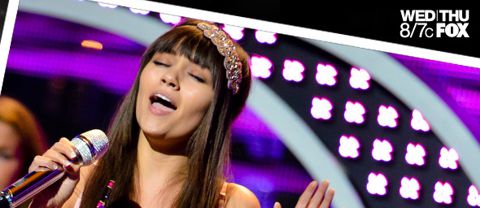 Tomorrow night on American Idol 2013 the ladies take their turn at proving why they deserved to win a Golden Ticket back at the auditions. While more than a hundred girls traveled to Hollywood, only the Top 20 will leave there happy. Here's a sneak peak at those American Idol spoilers.
We've been lucky to see most of these girls perform as part of the auditions phase, but now we'll get a closer look as they perform both solo and group acts in the next few days. Each round should provide similar cuts in the way we saw last week, but if our information is correct then all of the names below will survive round after round.
Here's the full list according to the spoilers plus links out to their audition performance if it was made available. Any favorites for you so far?
American Idol 2013 Top 20 Girls:
Brandy Hotard
Cristabel Clack
Jenny Beth Willis
Jett Hermano
Juliana Chahayed
Kamaria Ousley
Melinda Ademi
Shubha Vedula
Get ready to watch them all compete on Wednesday and Thursday night this week on American Idol 2013!