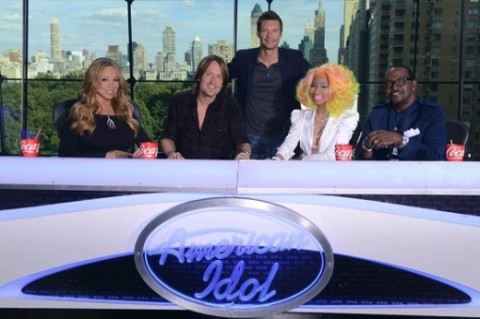 We're ready to share the American Idol 2013 spoilers for this season's Top 20 girls based on the incredible work over there at The Idol Pad. Earlier this week we passed along what had been discovered for the Season 12 Top 20 boys spoilers, but now we can get the other side of the aisle with the ladies.
Again like we saw with the guys there are a lot of repeat faces in this crowd but this time the number of familiar names is just six out of the twenty.
American Idol 2013 Top 20 Girls:
Amber Holcomb [AI11 LVR]
Aubrey Cleland [AI10 HW & AI11 SFYL/GM]
Brandy Hotard
Candice Glover [AI9 HW & AI11 LVR]
Cristabel Clack
Isabel Pasqualone
Janelle Arthur [AI10 HW & AI11 LVR]
Jenny Beth Willis
Jett Hermano
Juliana Chahayed
Kamaria Ousley
Melinda Ademi [AI10 LVR]
Rachel Hale
Shubha Vedula
Tenna Torres [AI11 LVR]
So it's interesting that while nearly all the Top 20 boys' repeaters were from last season of American Idol, we've got a wider variety of seasons with the girls. At the same time we've got multi-season names on the list too, something we didn't have with the boys.
Keep in mind that these spoilers are rumors though the source at The Idol Pad seems pretty credible. We'll know more as American Idol 2013 continues to get closer and will watch to see if any names get replaced or "double confirmed."
Source: The Idol Pad