The American Idol results show tonight offers no second chances to the finalist who gets voted off by the viewers. American Idol 2014 judges Harry Connick Jr., Jennifer Lopez, and Keith Urban already used their one save to rescue Sam Woolf last week. Whichever contestant ends up on the bottom in our American Idol recap tonight is going home.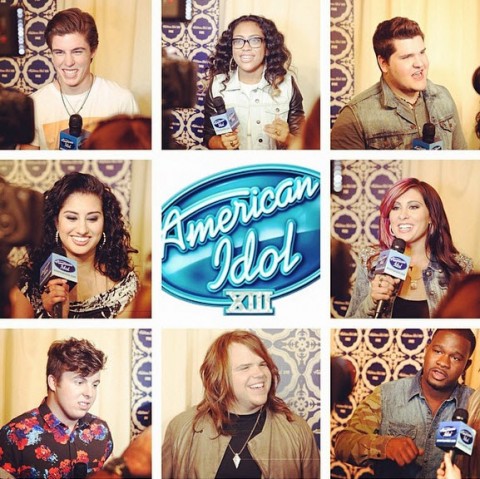 Although Sam Woolf was the contestant who got voted off American Idol last week, we don't necessarily think that means he'll repeat the experience this evening. Finalists who have gotten the save in the past have often had a brief boost in the votes from fans who realize they need to get dialing if they don't want their favorite to go home the next week.
Plus, Sam actually had a much improved performance this week that received a positive response from the American Idol judges and many viewers. So we could see Sam not only escaping elimination in the American Idol 2014 results tonight, but perhaps even being in the safe category.
Instead, we predicted the bottom three tonight after this week's 80's-themed performances would most likely be Malaya Watson, Dexter Roberts, and CJ Harris. Of all the contestants, we thought one of these three had the most potential to be the one who went home on American Idol in this round.
Although Dexter had a good reaction to his performance last night from the judges and on social media, he's been riding near the bottom for weeks. The same is true for CJ Harris, who has been so close to elimination so many times, we are shocked he's still around. As for Malaya Watson, she is a conundrum. Our readers seem to absolutely adore her, but in some fan polls elsewhere, she ranks right at the bottom week after week.
Of the three we thought would be in the bottom three (if Sam didn't pull a repeat), we predicted it would be CJ Harris who would finally be the one who was eliminated on American Idol tonight. But the voters are always unpredictable, and you never know exactly what is going to happen until the elimination results come in.
So stay tuned with us right here for our live American Idol recap of this week's results show below and find out who got the boot and who made the Top 7.
And here we go! No more saves and no more second chances tonight!
To kick off this evening we have some photos of the American Idol judges from the 80's to laugh at. Then we switch to the Top 8 finalists talking about how Harry Connick Jr. was crazy hyper during the performances show and joking about Keith's 80's mullet.
Caleb compliments Dexter for giving a "kick-butt" performance. Sam says he took Harry's advice and went and looked up Ricky Nelson. Alex is feeling a bit down about what Jennifer Lopez said about him last night but he still wants to do things out of the box. And then he and Caleb dive into a pool. Cute!
Commercial break and now it's time for the first results of the evening in our fast half hour show. Host Ryan Seacrest calls Dexter Roberts, Caleb Johnson, CJ Harris, and Jessica Meuse to the center of the stage. We have a brief recap of their performances from last night.
Unsurprisingly, the first person safe tonight is… Caleb Johnson. Followed by Jessica Meuse. And next up safe tonight is… Dexter Roberts! Wow, we'd kind of thought he would end up in the bottom three this evening. Instead, the first person in the danger zone is, not shockingly, CJ Harris.
Back from another break and Sam Woolf, Malaya Watson, Alex Preston, and Jena Irene Ascuitto are called to the center of the stage. Ryan announced the next person moving on to next week is… Alex! Following him to the safety zone is… Jena Irene! And then… looks like being voted out last week gave him a hot boost because Sam is also safe!
That leaves Malaya Watson and CJ Harris as the bottom two this week.
Yet another commercial break and it is time for the final results. Almost all the fan polls and fan bloggers out there have been predicting this week it would be either Sam Woolf or CJ Harris going home. Sam is safe, so it should be CJ who gets the boot, right?
But it is not! CJ Harris is safe and Malaya Watson has been eliminated on American Idol 2014!
Malaya is obviously distraught at going home as she does her goodbye performance of "I'm Changing" with tears in her eyes. Jennifer Lopez starts tearing up too and it is really all very sad. Malaya has had some bad performances and she wasn't strong this week, but we really thought CJ or Sam would finally go home after weeks of riding in the bottom. We know our readers love Malaya and many are probably upset right now!
And why did we have no bottom three result tonight? Did producers not want us to see Sam Woolf down there again after the judges used their save on him? If Sam Woolf had not been saved last week, would the American Idol judges have saved Malaya this time around? We think they would have…
Here are the final results tonight:
Safe:
Caleb Johnson
Jessica Meuse
Dexter Roberts
Alex Preston
Jena Irene Ascuitto
Sam Woolf
Bottom Two:
Eliminated: