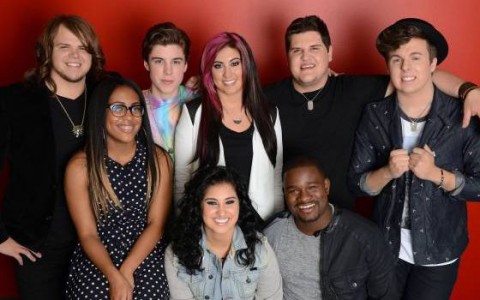 The American Idol 2014 Top 8 will become the Top 7 tonight now matter what because the judges' save was wasted spent on Sam Woolf last week. So there are a few things to consider when trying to figure out who goes home this week.
* UPDATE: Find out who went home in our full recap of the Top 7 results show here!
First of all, Sam won't be eliminated. People ride the save wave for at least a week or two following. So chances are, Sam won't even be in the bottom three. And since voting has been all over the place, the other thing to consider is that anything can happen. Anyone can go home tonight. There are only two people who I feel are totally safe. So let's get to it.
Who will go home tonight on American Idol 2014?
Definitely Safe (I think)
Caleb Johnson. Since he was in the pimp spot, had the best performance and lead our poll throughout the night, I think it's safe to say he isn't going anywhere. And he's been consistent all season, so I think he's good.
Alex Preston. His performance was so solid that I think people who don't normally vote for him voted for him. Again, anything is possible, but I don't see him going into the bottom three this week. If he does, he'll be safe.
Most Likely Safe (maybe)
Sam Woolf. Like I said above, I think he'll ride that save wave for a bit. Plus his performance was pretty solid.
Jena Irene. Our poll doesn't list her as high as I imagine she is. Especially after her fantastic performance last night. But I think she's going to be safe.
Jessica Meuse. Our polls list Jessica much lower than Malaya, but (no offense) you guys were wrong about Malaya last week. So I'm sticking with with this placement for Jessica.
Possibly the Bottom Three
Malaya Watson. Not only was Malaya in the bottom last week, her performance last night wasn't that great. Picking an obscure song was not a good idea. She could be in danger tonight.
Dexter Roberts. He managed to stay out of the bottom last week and I think his performance this week was great, but I have a feeling he'll end up here this week. If not him, then who? Jessica? Jena? I guess it could be Sam again only with Sam not getting sent home. It's getting tricky.
C.J. Harris. I think C.J. will find himself back here this week and I think it might actually be it for him. But after last week, I'm not placing any real bets on anything this season.
Possibly Going Home
C.J. Harris. It'll either be C.J. or Malaya. I'm feeling like it's C.J. He's been in the bottom so often between the show and our polls that I don't see him pulling ahead this week.
Who do you think is going home this week on American Idol 2014?