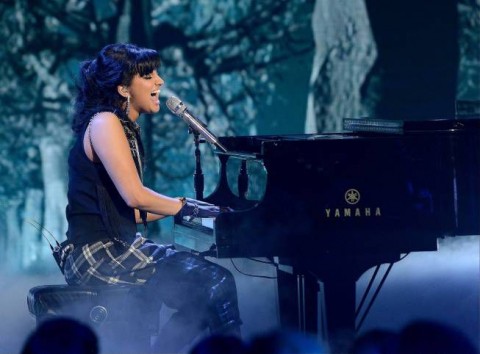 The American Idol 2014 Top 11 became the Top 10 Thursday night as Ben Briley was sent packing.
So it's once again time for our weekly American Idol 2014 power rankings. A lot has again shifted since last week, so there will be some changes in the rankings.
American Idol 2014 Top 10 Power Rankings
10. MK Nobilette. She may have escaped the bottom this week, but I don't see her coasting to victory anytime soon. I'm leaving her here for now.
9. Majesty Rose. I think Majesty needs a good performance to get out of the bottom three and I think she will, but after her finish this week, she has to come in at number 9.
8. Sam Woolf. I was surprised that Sam was in the bottom three this week, so my only option is to place him here. I don't see him going him next or anything, however.
7. Alex Preston. I'm not sure what people are thinking of Alex. He's been safe every week, but he's starting to get  a bit predictable, so I think he's about middle of the road right now.
6. Jena Irene. I think Jena could easily end up back in the bottom next week, but after her strong showing this week, she finishes our rankings in the middle.
5. Malaya Watson. After two weeks of strong performances, I think Malaya may have found a fanbase. She might be able to ride that for awhile. That's enough to get her in our Top 5 this week.
4. C.J. Harris. C.J. is another contestant who jumped from the bottom to the top this week. He did well in the Super Vote and was not in the bottom this week, so he comes in at number 4. I'm not sure he can hold on to the spot, though.
3.  Jessica Meuse. Jessica could either be in the bottom or the top and I wouldn't be surprised. I cannot get a good hold on how America is seeing her. I think for now I'll keep her on this end of the rankings just based on her solid performances.
2. Dexter Roberts. I think Dexter is making some of the smartest moves of the season. The fact that Ben Briley is out and Dexter is in is proof that the country music fans have chosen him. He should be around for weeks to come.
1. Caleb Johnson. Caleb is giving us the best performances. They're always powerful and entertaining and American seemingly loves him. I don't know how the votes are going, but all his statistics and performances combined are enough for first place this week.
How would you rank the American Idol 2014 Top 10?