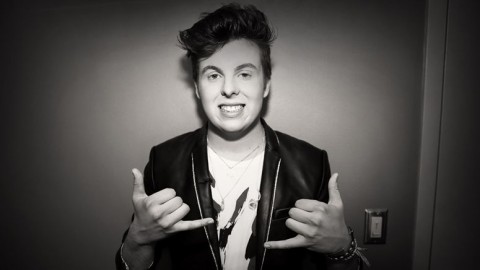 It was 1980s night on American Idol 2014, and in my opinion, it was the most entertaining night of the season. The song choices were good. The vocals were good. I liked it a lot. As always, I've reviewed each performance and assigned the letter grade I think each one deserves.
Jena Irene, "I Love Rock n Roll." I like the risk of starting a song like this on the piano, but it seemed a little weird. But I again, bonus points for being inventive. Luckily, she didn't change the whole thing. I actually loved the arrangement when she got up from the piano though. And then at the chorus it sounded more like the original. I'm a huge fan of this performance. Performance grade: A+
Dexter Roberts, "Keep Your Hands to Yourself." I'm really glad he picked this song because it's not a strictly country song. It actually crossed several charts in the 1980s and is familiar to a lot of people, so that's one of the best moves he's made in the competition. And the vocals were solid and the whole thing was pretty entertaining. Performance grade: A
Alex and Sam duet, "The Girl is Mine." First of all, horrible song. Secondly, boring performance. I almost fell asleep.
Malaya Watson, "Through The Fire." Well I've never heard this song and I imagine a lot of other people haven't either. That's actually a terrible idea the week after you were in the bottom three. I hope this doesn't get her in trouble. But it's not looking good because this was probably her worst performance since the first week. Makes me sad. C+
Caleb and Jena, "It's Only Love." Now this is a duet. Caleb was on. Jena was on. the performance was solid. Liked it a lot.
Jessica Meuse, "Call Me." Good song choice. But that's never been a problem for Jessica. And neither has singing, really. Her vocals were perfect, but her stage presence was a little weird. She seemed reserved and bored or something. It was weird. Performance Grade: B+
Sam Woolf, "Time After Time." First of all, I'd like to say that I picked this song for Sam in an earlier post! So go me! Of course, the performance was as good as I expected it to be. But it was still pretty sweet, tender and inventive. I like the kid, but I don't know if this would be considered one of his best. Performance grade: B
C.J. and Malaya, "I Knew You Were Waiting." No idea what this song is. I was bored most of the time and I'm a Malaya fan.
Alex Preston, "Every Breath You Take." This is a pretty good song choice for him. I never considered this one for him, but I get it. I liked the arrangement. I mean it was so different it was unrecognizable. And some people might call it boring. But all those critiques aside, I liked it. His voice sounded amazing on the song. Performance grade: A+
Dexter and Jessica, "Islands in the Stream." I like the song choice, but I didn't like the pairing. But it was still an entertaining performance. Jessica was stronger than Dexter. Which was always the case with Dolly Parton and Kenny Rogers. Dolly was better.
C.J. Harris, "Free Falling." Again, he confuses me with what kind of artist he is. But I say that every single week and I'm sorry. But I don't get him. I did like this performance though. I really liked the arrangement of the song. Performance grade: A-
Caleb Johnson, "Faithfully." Perfect choice. He needed a ballad and journey was a great direction for him. It was nice to see him pull back. But he didn't totally pull back. He still commanded the stage and his vocals surely commanded the audiences at home. Great performance. Performance Grade: A+
Who do you think had the best performances from the night?