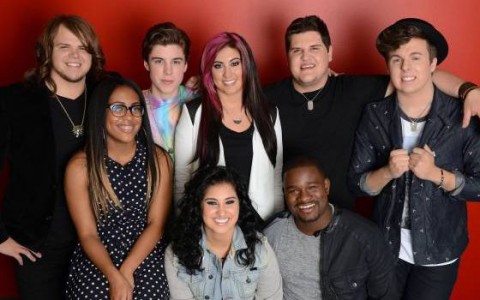 Finally! We have an American Idol 2014 theme I can actually work with! It's 1980s week on Idol, so that means the contestants will be taking on songs from the decade of neon and big hair.
*UPDATE* – Watch the American Idol Top 8 performances in our full recap of Wednesday night's show!
So what should the Top 8 sing? Let's take a look.
Sam Woolf. I'm feeling an acoustic version of "Time After Time" by Cyndi Lauper for him. I saw Matchbox Twenty do a version of "Time After Time" like 10 years ago and I think it would be a perfect arrangement for Sam.
Jessica Meuse. "Total Eclipse of the Heart" by Bonnie Tyler. She has to sing this. There are no other options. If she doesn't sing it, then Jena should. Someone should. I feel like she'll be tempted to do "Alone" by Heart, but I pray to the reality TV gods that she (or anyone else) does not. It's way too overdone.
C.J. Harris. I never know what C.J. should do because I still don't know what kind of artist he is. I'm going to go with "Living Years" by Mike and the Mechanics. For no good reason.
Caleb Johnson. Um, hello. Bon Jovi. "You Give Love a Bad Name" perhaps? Yes, please. Although, I must confess I wouldn't mind hearing him take on other hair bands like Whitesnake. That could be fun.
Malaya Watson. Tina Turner. I'm thinking "Better Be Good To Me" or "What's Love Got to Do With It." I think Tina would definitely be a good move for Malaya this week. I'd also love to hear her do "Purple Rain" by Prince.
Dexter Roberts. Well we know Dexter is never going to just take a pop song and put a country spin on it, so let me think of a 1980s country song for him. Ummm. "Always on My Mind" by Willie Nelson.
Jena Irene. Pat Benatar is the only thing I'll accept from Jena. It has to be done. Seriously, please do Pat. Do "We Belong" or "Love is a Battlefield." Please.
Alex Preston. "Jessie's Girl" was the first thing that came to mind for Alex. But maybe that's too obvious. So maybe some Foreigner like "I Want To Know What Love Is."
What would you like to hear the Top 8 sing this week?