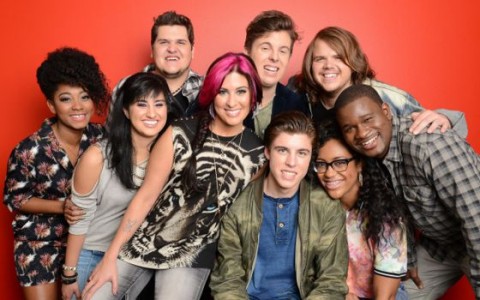 It's time once again for a very broad theme for American Idol 2014 which means it's also time for me to attempt my song suggestions. So forgive me now if you can tell how bad of an idea I think this has become. It used to be my favorite post of the week, but these new "themes" are ruining everything!
OK, that was a little dramatic, but still. Bleh. Anyway, the theme is "I'm With The Band." No idea what that even means. Maybe it's songs from bands. I don't know.
So once again, I'll focus more on the type of songs the Top 9 should sing.
Sam Woolf. This theme should be good for Sam. He can pick a song that he knows and can shine on. It would be nice to hear him do something upbeat.
Jessica Meuse. I'm thinking Evanescence for Jessica for some reason. I don't think that'll happen, but I think it would be the perfect time for her to pull out some Amy Lee.
Malaya Watson. Malaya has to be smart this week. She's had three good performances in a row and hasn't been back in the bottom. This week's performance will make or break her. It will either send her well into the Top 5 or it could put her back in the bottom. So she needs to do something big.
Alex Preston. I'm thinking Alex is going to be fine no matter what. So he can just have fun this week. I'd like to see him do something a little more edgy. And since I can't see him doing something super edgy, I'll suggest The Killers. They aren't that edgy of a band, but it would be  anise move for him.
Dexter Roberts. Dexter has to do something major. For some reason the country vote isn't sticking this season and if  he doesn't take a pop song and turn it into a country song this week, he could be in big trouble. I do think the judges would save him, though.
Majesty Rose. I don't know if Majesty can do anything to help her. I feel like she's going to be at the bottom until she goes home this week or next. She'd have to pull off a miracle performance this week. It would have to be so major I can't even think of something big enough to suggest.
Jena Irene. Jena needs to also do something a little more edgy this week. I can't get a hold of who she really is as an artist though. Is she a rocker or no? I'm not sure.
C.J. Harris. C.J.'s success has really been hit and miss the past few weeks. He's going to have to do something to wow voters this week or he could be in trouble again.
Caleb Johnson. This theme is perfect for Caleb. He can virtually pick any song this week and make it work and probably not be any where near the bottom three after the vote.
What do you think the American Idol 2014 Top 9 should since this week?