Qaasim Middleton's  American Idol 2015 luck ran out last week when Twitter again decided to save Rayvon Owen with the Idol save.
So let's take a look at the Top 7 and how they stand in our weekly Power Rankings.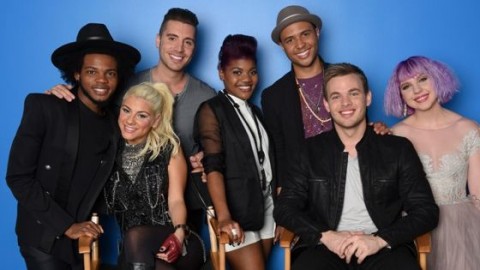 1. Clark Beckham. From our polls to Las Vegas odds to just how damn good he is, Clark Beckham takes the top spot in the Power Rankings this week and won't be going anywhere for the rest of the season. His performance last week was spectacular — just like always. The guy can do no wrong. Like he's so good, the judges can only tell him to try out a different look.
2. Jax. Almost as tight as Clark is Jax. She's definitely the second person most-likely to win American Idol. And as we know, the person in this spot sometimes wins (cough — Kris Allen — cough). So 2nd is definitely not a bad place to be in our Power Rankings.
3. Tyanna Jones. I was worried for Tyanna for a while. I was worried that people weren't seeing and hearing what I've seen and heard since the start of the season. But I think I was worrying for no good reason. Polls and odds are really looking good for Tyanna, so I feel comfortable putting her in the No. 3 spot.
4. Nick Fradiani. Nick's popularity has actually surprised me. I thought with he and Clark both in the game, Nick would lose out a lot earlier in the season. But he and his million-dollar smile are holding on and it looks like he could have a few more weeks left in him.
5. Joey Cook. I think others are finally starting to see what I've been saying about Joey all along. And that's that she's not that great. She's a one-trick pony. She has not actual singing range and while arguably talented, she shouldn't be winning any kind of singing competition shows.
6. Quentin Alexander. I personally think Quentin has long worn out his welcome. I've been surprised by his safety week after week. But I think it is FINALLY wearing thin and could find himself in the bottom two this week. But I don't think Twitter will overlook Quentin for Rayvon.
7. Rayvon Owen. So I think Rayon will again be in the bottom, but will this time lose to Quentin or whomever else is in the bottom next to him. I, however, do not think he should go over Quentin OR Joey. But I think he would.
How would you rank the American Idol 2015 Top 7?