It was the end of Hollywood Week on last night's episode of American Idol 2015 the Season 14's Top 48 contestants were revealed when Jennifer, Harry, and Keith made their final selections at the end of the Hollywood stage.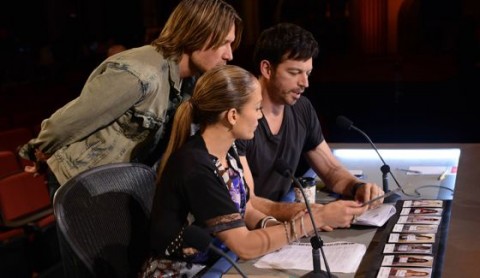 Spoilers leaked months ago revealing who had made the Top 48 which was actually a surprise climb over an expected Top 40 contestants. Now as we've watched the eliminations and results over the past few weeks we've drawn closer to confirmation of the singers who survived the cuts.
Following one last round of solo performances the Judges will confer before making their cuts known to the remaining Hopefuls. Can't wait to find out who made it through Hollywood as we prepare for the Showcase Week in the next batch of episodes? We've got your full list of Top 48 spoilers here. We've updated this post will the official American Idol 2015 semi-finalists contestants names.
Contestant Daniel Seavey tweeted this photo saying, "Your top 48 people! #americanidolxiv" though it only features a portion of the singers who made the cut and apparently even one who did but dropped out of the competition.
click images to see full-size view
While last night's one-hour Idol episode featured many of the results there were still plenty of contestants who were left on the cutting room floor when it came time to put the show together. Here is the complete list per earlier leak resources.
Top 26 Ladies
1. Adanna Duru
2. Alexis Gomez
3. Anjelika Joseph (aka Jelly)
4. Ellen Petersen
5. Emily Brooke
6. Erica Washington
7. Erika Davis
8. Hannah Mrozak
9. Hunter Larsen
10. Jackie Cole (aka Jax)
11. Jaq Mackenzie
12. Joey Cook
13. Kalynne Schoelen (aka Kalynne Michelle)
14. Katherine Winston
15. Loren Lott
16. Lovey James
17. Maddie Walker
18. Maddy Hudson
19. Monica Laire Pidoy Mendoza
20. Najah Lewis
21. Nalani Quintello
22. Rachael Hallack
23. Sarina-Joi Crowe
24. Shannon Berthiaume
25. Shi Scott
26. Tyanna Jones
Top 22 Guys
1. Adam Ezegelian
2. Hollywood Anderson
3. Casey Thrasher
4. Clark Beckham
5. Cody Fry
6. Daniel Seavey
7. Hector Montenegro
8. Jessie Nunn III (aka J. None)
9. Josh Sanders
10. Mark Andrew
11. Michael Simeon Smith
12. Nick Fradiani Jr.
13. Qaasim Middleton
14. Quentin Alexander
15. Rayvon Owen
16. Reno Anoa'i
17. Ricky Hendricks
18. Riley Bria
19. Savion Wright
20. Tion Phipps
21. Trevor Douglas
22. Zack Kaltenbach
Wait, you want to know even more? How about who survives next week's Showcase event at the House of Blues? Okay, but only because you asked so nicely. Here are the American Idol Top 24 contestants for 2015 spoilers. Enjoy!