It all comes down to one "Final Judgment" on American Idol 2015 when the remaining Top 48 contestants head to House of Blues and sing for their Idol lives tonight on FOX.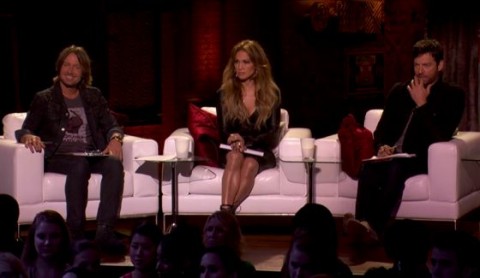 Follow our live coverage of tonight's very important Idol performances as we'll be learning who is sent home and who moves on to sing for your votes. The all-new Showcase Week is a critical step of last performances with high stakes. We also have the American Idol Top 24 spoilers here as well.
Set at the Sunset Strip's House of Blues venue this could be the first time many of these aspiring artists have played to a full house much less such an overwhelming venue. It's a test for all the contestants to see how they can handle the pressure of potential fame from winning American Idol.
Michael Simeon – "Classic"
Michael leads off the night at the House of Blues. No pressure, no pressure. He's got the ladies moving but was his rapping too much of a risk in the performance?
Jennifer asks Michael what he thinks he'll bring to the show and he thinks it's his versatility that makes him right for the Top 24. Well it worked because he's in! Michael Simeon joins the Top 24 for Season 14.
Loren Lott – "My Heart Will Go On"
Loren was pleased with her performance, but Harry says the connection wasn't there and it just wasn't one of her best performances. He wants to know how she'll do in the Top 24 which was his silly way of revealing the news to an ecstatic Loren Lott. Yep, she's in too.
Adam Ezegelian – "Here I Go Again"
Wow. Adam was having a blast on stage and you can tell how much he loves doing this. Keith asks Adam Ezegelian, is there more to him than his performances so far? Well we'll get a chance to find out because Adam is part of the Season 14 Top 24!
Cody Fry – "Viva La Vida"
Cody says he took a lot of slow songs so far this season so he went for high energy. Jennifer lets Cody down easy saying they think he's awesome which is why he got this far, but it was a bridge too far for him. Cody Fry was eliminated tonight from Idol.
Lovey James – "Wings"
We get an extended look at Lovey James' performance of "Wings" during the Showcase Week. She says this was the biggest performance of her life and she's pining her dreams on making this.
Harry says Lovey really came alive during her Showcase performance but consistency is key in this competition. She'll have a shot at it because Lovey James is part of the Top 24 this season.
After a string of mostly successes, it's time for some rejections in a montage of contestants. Hector Montenegro, J. None, Reno Anoa'i, Zack Kaltenbach, and Hannah Mrozak were all sent home tonight on Idol.
Adanna Duru – "It's A Man's Man's Man's World"
It's a great and energetic performance out of Adanna Duru in her bid to remain in the running to be the next winner of American Idol. Jennifer Lopez is up on her feet by the end.
Harry is letting Adanna know that yes, she has made it through and is not going home tonight.
Maddie Walker – "Big Girls Don't Cry"
Maddie gives a strong performance well beyond her years as just a high school student. Jennifer is quick to tell Maddie she did not make the cut. Hmm. According to our spoilers source she did in fact make the cut. Now we see the Judges debating her elimination with surprise. We may see her pulled back in.
Rachel Hallack – "Gunpowder & Lead"
After struggling in several recent rounds (which makes you wonder how she stayed in) Rachel Hallack comes back with a strong redemption, but was it enough? Jennifer tells Rachel that things were close and it's time for a showdown.
Maddie Walker vs Rachel Hallack
Jennifer tells the girls that while they did several sing offs last season none were planned for tonight, but that's about to change. They'll decide among themselves who will go first and then we're off to the races.
Maddie goes first with "Red High Heels" with Rachel next singing "Son Of A Preacher Man." Harry sends both back out while they debate the elimination. Judges say it's "so close" but Harry gives 1% edge to Maddie over being ready for the stage.
The Judges bring the girls back in with their decision. Keith says they're both so good, but by a sliver of margins they're sending Maddie through and Rachel is going home.
Clark Beckham – "Georgia On My Mind"
Back at the piano Clark Beckham is delivering another powerful, soulful performance that's sure to win the Judges over as we see Jennifer singing and dancing along with him. Keith is up on his feet. Yep, this has to go well for Clark.
Harry reveals the happy Top 24 news for Clark, but reminds him to keep practicing.
Daniel Seavey – "Straight Up"
Rocking the guitar and a suit Daniel Seavey gives a fun, but underwhelming performance. All the same he'll fill a niche for the producers and he's on to the Top 24.
Tyanna Jones – "Love On Top"
Great stage presence combined with an awesome performance by Tyanna Jones and she's looking like a lock to move on with American Idol.
Jennifer says that some singers come to life on stage while other freeze. Luckily for Tyanna she was one of those who come to life and that means she's on to the Top 24 for Season 14.
Rayvon Owen – "Lay Me Down"
Jennifer tells Rayvon that he did really great during his performance so they want him to continue on. Rayvon Owen has joined the Top 24.
Shannon Berthiaume – "Piece Of My Heart"
Shannon reveals this was her very first time performing before a live audience. She says she gets more comfortable every time she's performed so far this season. Keith gets right to it and tells Shannon Berthiaume that she's through to the Top 24.
Jax – "You And I"
After a strong start at the piano Jax takes a long, long break when she gets up but that decision leaves Jennifer Lopez shaking her head. Jennifer tells Jax it wasn't her best and the risk was miscalculated, but it's not going to stop her progress despite the bump in her road. Keith says they do think she's terrific and will join the Top 24.
Hollywood Anderson – ""
Hollywood's intro sets him up for a big fall after reminding us how strong he started with his audition, but since then he's struggled to recapture that same magic. What happens? It's a cliff hanger ending. Can't wait to find out if Hollywood Anderson was sent home? We've got your Top 24 spoilers here.
Join other Idol fans in our chat room and share your thoughts on each performance as they happen. You can also follow along on Facebook and Twitter with other fans!