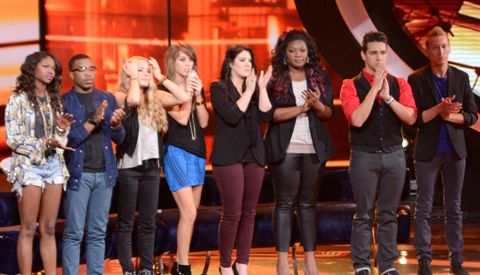 Meet the American Idol 2013 season 12 top 8 finalists. The results were revealed on Thursday night and they were "shocking," said no one at all.
The expectations had already been set that we'd see another male eliminated from the competition and that prediction came true.
Now that the remaining finalists have moved on without Paul Jolley we have a new Top 8 for Season 12 including Amber Holcomb, Angie Miller, Burnell Taylor, Candice Glover, Devin Velez, Janelle Arthur, Kree Harrison, and Lazaro Arbos.
Which guy will be sent home next? We're predicting that'll be Devin after several straight weeks of being in the bottom group for votes.
Here's a photo gallery for who you will see performing next week on 'American Idol.'
click images to see full size
All images: CR: Frank Micelotta/ FOX. Copyright: FOX.