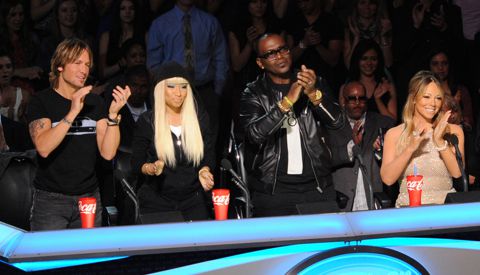 The voting results were announced during tonight's live American Idol 2013 show featuring the surviving nine contestants and an entertaining performance by runner-up Jessica Sanchez.
While we're still a short time away from filling in all the blanks of this week's results events it almost feels like we can go ahead and put Candice, Angie, and Kree in to those top spots again after Wednesday's impressive round of performances. The women crushed the male competition which means we can likely find the boys in the danger zone once again.
The new method of revealing the voting ranks is a welcome change for Idol where tight lips kept those details hidden from the viewing public. Nigel Lythgoe previously promised us more insight to the results and he made good on that offer even if it made him appear to be copying FOX's 'The X Factor.'
There will be no need to address the Season 12 'Wild Card' runoff since those results were revealed last night. We have those details here if you missed it.
Now on to what we came for, the American Idol results.
American Idol 2013 Top 9 – Bottom 3:
American Idol 2013 Top 9 – Elimination Result:
The following singers are safe and make up your American Idol 2013 Top 8:
Devin Velez
Amber Holcomb
What do you think of tonight's American Idol results?