In our American Idol 2015 recap tonight, the Top 8 take the stage and this time they'll be taking on songs from the Billboard Hot 100. We are excited for some of the best American Idol performances of the season this evening based on the song list spoilers earlier this week.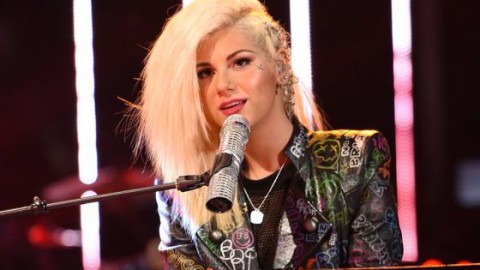 The field is narrowing as we're are down to the last eight performers of the season and the all new Idol Fan Save is going to keep us guessing on each week's elimination. Nothing like a little drama and uncertainty to keep us on our toes as fan favorites Clark Beckham and Jax lead the pack toward the season finale, but one false step could send them to the back of the pack.
Tonight's guest mentors are Jason Derulo and Florida Georgia Line which should give us a nice balance of the artists and guidance for the remaining talent. We'll see just what they have to contribute to the live show with their own performances as well.
We're recapping tonight's American Idol 2015 show right here so refresh this page for the latest performance videos, voting details, and results throughout the show. Check out our Idol chat room for more discussions with other fans.
Jax performs "Poker Face"
Well no surprise that she Jax'd up this song, but I'm not going to harp on her for it. She knows how to stand out and it's working for her. I do like that at least some of the song remained recognizable — not much, but a little. But to be totally honest, I was glad when it's over (which means America will love it).
How to vote for Jax:
Text: 7 to 21523
Call: 1-866-IDOLS-07
Nick Fradiani performs "Teenage Dream"
This was definitely an interesting song choice for Nick. I liked the arrangement and I liked how is stage presence and confidence definitely seems to improve. BUT. His vocals weren't as tight this week. He actually struggled with his pitch a few times. But the crowd seemed to love it, so maybe it will pay off.
How to vote for Nick:
Text: 6 to 21523
Call: 1-866-IDOLS-06
Quentin Alexander performs "Latch"
I'm still not sure why Quentin keeps surviving week after week, but America is liking something I'm not seeing. I thought this performance was all over the place. I loved the background singers, though, because that actually sounded good and like the song. The rest of it was just kind of OK (some of the time).
How to vote for Quentin:
Text: 11 to 21523
Call: 1-866-IDOLS-11
Joey Cook performs "Wrecking Ball" 
Well she didn't change the arrangement per se, but she did sing all the lyrics in her gimmicky, weird voice, so that was off-putting to me as usual. And this song has some big notes that even Miley Cyrus can hit (sometimes) and Joey had to lower them. So I think this song really exposed what she isn't capable of. Definitely not her best performance.
How to vote for Joey:
Text: 10 to 21523
Call: 1-866-IDOLS-10
Clark Beckham performs "Make It Rain"
Well that was a great performance. It was very subdued but so, so so, soulful and sexy. Clark is as perfect as it gets this season and if he's not in the finale I will be completely shocked. This performance was outstanding as all of his others have been.
How to vote for Clark:
Text: 9 to 21523
Call: 1-866-IDOLS-09
 Tyanna Jones performs "Stay"
This was a great song choice for Tyanna. Just like she said, it was time for her to show everyone that she's not just a happy 16-year-old. She was able to show us that she does have an emotional side. She really delivered with this one. I hope America likes her as much as I do.
How to vote for Tyanna
Text: 5 to 21523
Call: 1-866-IDOLS-05
So this means that Qaasim Middleton and Rayvon Owen are in the Bottom 2. So America will again be deciding who they want to save.
Rayvon Owen performs "Set Fire to the Rain" 
I liked the idea of this song for Rayvon, but it didn't end up being that great. I mean there were some good moments,  but overall it's not something I want to listen to again. I think America still might want to save him over Qaasim, though. But we will see shortly.
How to vote for Rayvon:
Text: 2 to 21523
Call: 1-866-IDOLS-02
Qaasim Middleton performs "Hey Ya" 
Well he had the energy and presence that America likes, but the performance was a little all over the place. I'm not sure how this Idol save will go. But I think Rayvon was better as a whole.
And the fan save goes to Rayvon. He lives another week.
What did you think of tonight's results and the Top 8 performances? Did America get the votes and this crazy Twitter Save right for the Top 8? The next American Idol results will be revealed next Wednesday but we'll have our predictions before that. Find us on Facebook, Twitter, and by Email for more Idol coverage.