Top 9 hit the American Idol 2015 stage tonight on FOX when your votes decide not one, but two more eliminations and the remaining contestants are vying for your support. Prepare for a return to the 80's with your American Idol Hopefuls.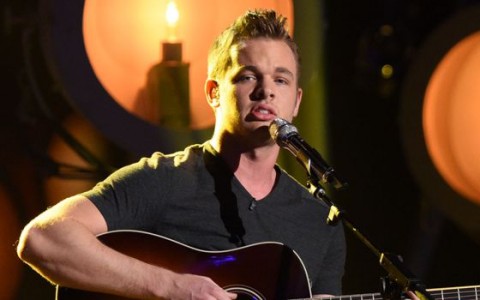 This week's American Idol theme is set in the 80's with Boy George visiting to give his guidance and mentoring. The contestants know they can't falter in their song picks and deliveries anymore with the Judges Save used for the season. Will the higher stakes raise their games or just their anxiety?
We're recapping tonight's American Idol 2015 show right here so refresh this page for the latest performance videos, voting details, and results throughout the show. Check out our Idol chat room for more discussions with other fans.
Daniel Seavey performs "You Make My Dreams Come True"
We get mention that the judges had been a little tough on Daniel, but mentor Boy George thinks he has "good chops." This performance is probably better than his past few, but it still wasn't great by any means. It was fun and sweet, as Daniel always is, but the vocals were all over the place, and for every good moment, there was a bad one. The judges were nicer this week, at least about the vocals. Harry Connick Jr., however, let him know he's not a fan of his choreographed dance moves.
How to vote for Daniel Seavey
Text: 3 to 21523
Call: 1-866-IDOLS-03
Quentin Alexander performs "In The Air Tonight"
Quentin says he's shocked he's made it through this double elimination and so am I. As for the performance, it was a little weird and eery at first, but it was a risk that I think paid off. His vocals were stronger than usual and the arrangement was pretty solid as well. I think this was a good idea for him. The judges seemed to really enjoy the performance as well. Harry mentions that he has a tendency to do low-tempo songs, though.
How to vote for Quentin Alexander
Text: 11 to 21523
Call: 1-866-IDOLS-11
Joey Cook performs "Girls Just Want To Have Fun"
Thank you, Boy George, for calling Joey out on that one-note thing she's got going. Well, his advice worked for the most part. But since when does one say "girls" like that? Anyway, is this gimmick every going to wear thin for anyone other than me? Wait. Now it's reggae? Oh, it's back to a jumbled mess. What is this performance? Like can anyone actually like this? Please let us know in the comments section below if you did. Even the judges noticed it was off. But Boy George came out to offer her some support.
How to vote for Joey Cook
Text: 10 to 21523
Call: 1-866-IDOLS-10
 Tyanna Jones performs "I Wanna Dance With Somebody"
I'm very glad Tyanna made it through. People on other sites were predicting her elimination tonight, so I'm glad they were wrong. That was a good performance. I don't see many criticisms from the judges this week. The vocals were tight and she had a lot of fun. I didn't love what the band did with the song, but Tyanna handled it very well. JLo reminds Tyanna that no one is perfect, referring to her slight flub last week. Harry has no actual criticism this week, either.
How to vote for Tyanna Jones
Text: 5 to 21523
Call: 1-866-IDOLS-05
Jax performs "You Give Love a Bad Name"
Jax going for a big risk with this Bon Jovi song. But it actually turned out pretty cool. I thought the arrangement was really cool and her vocals were strong. And she had a lot of fun with it too. And anytime a contestant plays the piano during their performance, I'm a fan. This was a good week for Jax.
How to vote for Jax
Text: 7 to 21523
Call: 1-866-IDOLS-07
Nicki Fradiani performs "Man in the Mirror"
Michael Jackson is a big task, so I'm surprised Nick went for this song. But I thought it was pretty solid. The arrangement almost got away from him a few times, but he held his own. It was nice to hear him do something with some energy, but I feel like the confidence everyone mentioned earlier was still slightly lacking. But the performance itself was good.
How to vote for Nick Fradiani
Text: 6 to 21523
Call: 1-866-IDOLS-06
 Clark Beckham performs "Every Breath You Take" 
Clark can basically do no wrong. He has a tendency to pick boring songs, much like this (well in this case, it's not a boring song, but a boring arrangement), but his vocals always make up for any sort of draggy song. His talents are undeniable. His only worry will ever be him boring his audience. But he didn't bore the judges. They dug it. JLo even finally got the goosies.
How to vote for Clark Beckham
Text: 9 to 21523
Call: 1-866-IDOLS-09
 Qaasim Middleton performs "Addicted to Love"
Well the save worked like charm. It always does. Now two people who shouldn't go home this week are going to go home. But anyway, back to the task at hand. This performance was not great. The vocals were all over the place and a lot of it seemed unrehearsed and lazy. Not my favorite performance.
How to vote for Qaasim
Text: 8 to 21523
Call: 1-866-IDOLS-08
Ryan Seacrest actually announces that the Bottom 3 are Adana Duru, Maddie Walker and Rayvon Owen. The final person performing tonight is Ryvon Owen. Maddie and Adanna are eliminated.
Rayvon Owen performs "Everybody Wants to Rule the World"
Well that wasn't a great performance. Definitely not one to close out the show with. But I did like that they let us know those three were in the bottom. I don't think the vocals were bad, but that performance was just very robotic to me. But Harry seemed to not think so. Harry thought he was very connected to the song and that the performance was solid.
How to vote for Rayvon
Text: 2 to 21523
Call: 1-866-IDOLS-02
What did you think of tonight's results and the Top 9 performances? Who were the standouts for you and deserves a spot in the Top 8? Those American Idol results will be revealed next Wednesday but we'll have our predictions before that. Find us on Facebook, Twitter, and by Email for more Idol coverage.