With four singers set to be sent home tonight on American Idol we're left to speculate which of the Top 14 contestants reached the end of their run with last night's performances.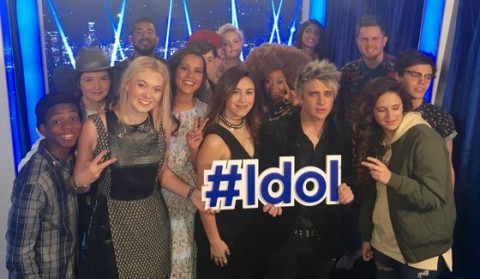 So who will make the Top 10 of Idol Season 15? We've already seen Trent, La'Porsha, Olivia, and Dalton take their seat in the coveted finalists' row. Now it's predictions time as six more will move on and it'll all be based on your votes. So let's look at your votes.
We posted a poll last night asking "Who Was The Best Wild Card?" and we can use those numbers as an unofficial indicator of how things could turn out tonight when your votes are revealed.
Remember that only the top six positions in the official results will move on. Who would that be if your votes here were the deciding factor? Here are the results at the time of publishing, but since we're leaving the poll open it could continue to shift around.
American Idol 2016 Top 14 Poll Results:
Going down that list gets us to Jenn as the last of the singers who would make the Top 10 list if it was just our votes here deciding. That would set up Gianna, Jeneve, Thomas, and Manny as the four singers to go home tonight on American Idol.
So who will go home? I think those names are very feasible for the next eliminations. It's so close here between Jenn and Gianna that we could easily see a swap between the two ladies. Neither does much for me as Jenn seems to be riding the "I'm so quirky" train and Gianna has her mom and Idol's interest in her mom to thank. Obviously they're both strong singers and there are plenty who think they're the best though so good for them.
Jeneve is also very close to Jenn and Gianna, but I'm not as confident that she'd outperform either of those two singers in the votes. She's a talented singer to be sure, but it takes more than that at this point and really last week we saw better singers sent home. Production favors Miss Mitchell, but I'm not confident that enough viewers feel the same.
Down at the bottom we've got Thomas and Manny. Thomas drew the short straw getting Harry's critique and it wasn't positive or encouraging with his advice to stop doing annoying traits in his performances. Then for Manny, well he's a great singer but I'm not sure he's got the right appeal against his competition.
Maybe we'll get a total surprise and this whole thing will be flipped upside down when Ryan Seacrest dims the lights tonight. Okay, there's no chance MacKenzie doesn't make it, but maybe we'll get a shake-up and Stringfellow goes on to win the whole season.
What do you think will happen tonight on the American Idol results show?