Our Wild Cards face the results tonight as we prepare for both the reveal and performances by the season's Top 10 contestants after saying goodbye to another four talented singers from American Idol.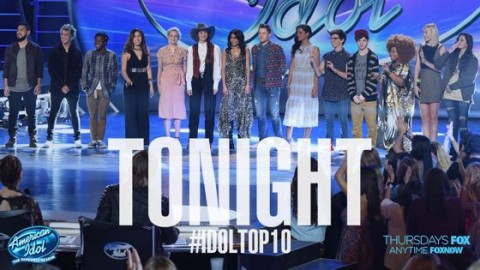 Only contestants Dalton Rapattoni, Trent Harmon, La'Porsha Renae, and Olivia Rox are guaranteed to perform during tonight's show but the pressure remains on them all as those who survive the dimmed lights elimination will be back on stage right away.
Just like the night before we'll be watching these Hopefuls sing for your votes but this time around it won't be recycled song picks from just the week or two earlier. Instead we've got new songs and new votes which you won't want to miss because next week these contestants face a double elimination.
We'll have our live recap of tonight's two-hour performance show right here so stick with us throughout the night. You definitely won't want to miss Kelly Clarkson's return to the American Idol stage for what sounds like a special performance tonight in addition to her role as a guest judge. Since she's extremely pregnant right now she won't be available for the series finale on April 7th.
And here we go! It's time to dim the lights and for Ryan to announce the Top 10!
Ryan reveals the Top 10 as Tristan McIntosh, Sonika Vaid, Gianna Isabella, MacKenzie Bourg, Avalon Young and Lee Jean.
That means we say goodbye to Manny Torres, Thomas Stringfellow, Jenn Blosil and Jeneve Rose Mitchell.
Let's get to the Top 10 performances. No time to mourn the loss of Thomas.
Olivia Rox, "Unconditionally." I don't know why she picked this song, but oh well. It was as boring as the song and I had pretty high hopes for her to rock it out for us tonight. Let's hope she sticks around to give us more.
Vote for Olivia: 1-866-436-5701
Gianna Isabella, "Listen." Oh boy. This is a great big song and quite a risk to take. Did it pay off? No. This was too big for her. You can't sing Beyonce with a mediocre voice like this. Bad idea. The best I can say is that she was mostly on pitch. But hey, at least she got to mention being on her mom's tour bus and that's all that matters.
Vote for Isabella: 1-866-436-5702
Lee Jean, "Skinny Love." I'm not sure this song was a good idea for him. It was a weak song and something seemed off with him. Everyone seems nervous tonight. I don't think things are going to be looking so good for Lee. That was all just pretty there and nothing special.
Vote for Lee: 1-866-436-5703
Avalon Young, "Stitches." I thought this started out a little boring and weak, but it did pick up later. I do like her voice and the edge she puts off. And I am very happy she's embraced the Idol makeup person. I can't stress it enough how important image is in this business, so I'm glad she's giving in a little.
Vote for Avalon: 1-866-436-5704
Dalton Rapattoni, "Hey Delilah." Finally, a good song choice. This was actually a perfect song choice for him. It definitely wasn't the best performance of the night or by him, but it was fun and energetic and displayed the kind of performer he is. I think he'll be sticking around.
Vote for Dalton: 1-866-436-5705
Tristan McIntosh, "Nothin Like You." Well that got off to a pretty bad start. She never really gained her footing, or maybe it was just that song that I've never heard of and never want to hear again. This was probably the worst performance so far.
Vote for Tristan: 1-866-436-5706
MacKenzie Bourg, "I See Fire." First of all, I want to say I just want to hear more MacKenzie originals like "Roses," but I know that's not how this works. So this was a good song choice instead. He's pretty much a perfect performer. He knows exactly how he is and how to do it. I wasn't jumping out of my seat but I can't say one bad thing.
Vote for MacKenzie: 1-866-436-5707
La'Porsha Renae, "Diamonds." This was a good song choice for her. It was smart of her to show her range and she seemed really comfortable on the stage. She's really got it and the judges think so as well. They loved it.
Vote for La'Porsha: 1-866-436-5708
Sonika Vaid, "Bring Me To Life." Well this was an interesting and unexpected song choice for her. She was the last person to bring this kind of performance to the stage, but I was happy she did. I liked the surprise factor and how wells she handled it. A lot of fun.
Vote for Sonika: 1-866-436-5709
Trent Harmon, "Like I Can." I love this guy. I can't help it. Every single time he's on the stage, he commands it. He is the most unique Idol contestant in years. YEARS. That was a flawless performance as well (even if the vocals weren't perfect).
Vote for Trent: 1-866-436-5710
Find us on Facebook, Twitter, and Email Updates for the latest American Idol news.