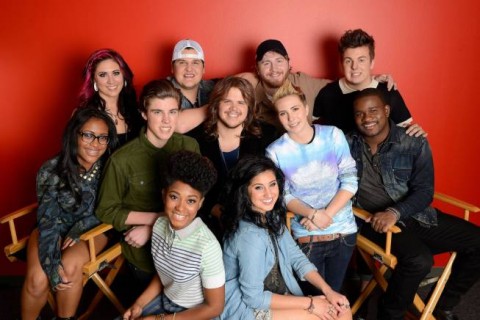 The American Idol 2014 Top 11 took on songs from the cinema Wednesday night and like the cinema, there were some blockbuster performances and some flops.
As always, I've reviewed each performance and assigned the letter grade I think each one deserved.
Sam Woolf, "Come Together." It was nice to see Sam change things up. He ditched the guitar and picked a song a little more upbeat, but overall, it was just OK. There were no big moments in the song and he didn't really seem to be totally comfortable. It's definitely not his best effort. Performance Grade: B
Jessica Meuse, "The Sound of Silence." Great, great song choice. And her vocals were great. The overall performance wasn't existing or anything, but it was nice and moody. But it was sort of just sitting there. I think like Jennifer said, something was off, but it was still a pretty solid effort. Performance Grade: B+
C.J. Harris, "Can't You See." This is another good song choice. Not only is it a good song, but it really worked for him. It was his best performance in my opinion. His vocals were spot on and he was connected. He also made the song his own. I really liked the arrangement and the spins he put on it. Performance Grade: A
Dexter Roberts, "Sweet Home Alabama." This song choice makes a lot of sense for him. I'm pleased with the song choices tonight. He handled the song pretty well, but I found it boring. I mean there were no technical issues or anything, but it was just OK. Performance Grade: B+
Ben Briley, "Benny & The Jets." Eh. That piano playing was a bit harsh and the tempo was weird. And the vocals were OK at best. It's a good song, but I don't think he's the right singer to do a stripped down version. Thankfully the band broke in later. It all got better then, but it was still not that great. Performance Grade: C+
Majesty Rose, "Let It Go." I didn't expect to hear such a new song. And I wish she'd picked something else. It just wasn't good. There were a few good moments, but there were a lot of bad moments. Performance Grade: C+
Caleb Johnson, "Skyfall." Well this isn't the person I expected to cover Adele, but OK. Let's see how it goes. He picked the right kind of song. He did need to pull back this week. So he picked a more mellow song, but still delivered the powerful big vocals. It was pretty solid. Performance Grade: A-
MK Nobilette, "To Make You Feel My Love." Every single performance of hers is the same. It's always mellow and in the same key and she's usually on a stool. This performance was actually more connected than her previous ones, but I think it might be too late for her. It wasn't bad, though. Performance Grade: B
Alex Preston, "Falling Slowly." Well this is the third time this song has been done on "American Idol." Which is way too much. I think it's a great song, though. But Alex's version was weird and almost unrecognizable. I hated it. Performance Grade: C
Jena Irene, "Decode." What is this song? Why? Ugh. It was nice to see her back at the piano. I don't know the song, but it was perfect for her. She sounded amazing. Her vocals were perfect and she didn't miss a beat with the song's intensity and emotion. Performance Grade: A+
Malaya Watson, "I Am Changing." This was the perfect song for her. This is the kind of song that just really fits for her. She had a few iffy moments, but the vocals were big and it all really worked for her. That ending note alone is enough for an A. Performace Grade: A-
What did you think of the American Idol 2014 Top 11 performances?