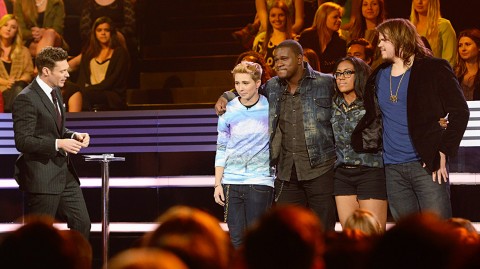 The American Idol 2014 Top 12 became the Top 11 Thursday night as Emily Piriz was sent home based on America's votes and the judges' final impression (meaning they did not use their save on her).
So it's once again time for our weekly American Idol 2014 power rankings. A lot has shifted since last week, so there will be a lot of changes in the rankings.
American Idol 2014 Top 11 Power Rankings
11. MK Nobilette. MK has been in the bottom for two weeks now and I don't see her climbing out next week. Her performances have been lackluster and she's not making a connection to her audience. I think she goes home next.
10. Jena Irene. I think Jena has a lot of talent and I don't understand why she isn't catching on. I think she's at risk at going home unless she picks a great song and has a moment with it.
9. Ben Briley. I don't think Ben will stay ranked this slow beyond this week, but something went wrong with him this week. His performance was off and he didn't do too well in our poll this week. He's getting shown up by Dexter Roberts.
8. Majesty Rose. Majesty got the pimp spot during Wednesday night's performance show, but her performance was not pimp-worthy. It was very flat and I can't even remember what the song was right now if that tells you anything.
7. Malaya Watson. Malaya went from the bottom 3 last week to safe this week. And she went from No. 12 on this list to No. 7. She won our best performance poll this week and she clearly won a lot more of America's votes as well. I think if she picks another great song, she can continue to climb and maybe everyone who thought I was crazy for loving her will understand why.
6. Alex Preston. Alex is a great performer but right now he's definitely playing it safe and hovering around the middle. He's just kind of there right now. He's not going to be able to play it safe much longer, though.
5. C.J. Harris. I still don't know what to make of C.J. I don't get him. But he did well in the super vote apparently, so America is responding to him some. I'll keep him around here for now.
4. Jessica Meuse. Right now there are people doing better than Jessica so I can't place her any higher than 4th. She's likely do do very well in the coming weeks and take over one of the top 3 spots.
3. Sam Woolf. Even though Sam is not wowing me, I'm not reading to move him out of the top 3 spot yet. I'm sticking to my gut on this one for now. I think he's a contender so I won't be caught ranking a potential American Idol winner any worse than 3rd. Plus his Twitter following is climbing.
2. Caleb Johnson. Caleb is doing no wrong. I'd be willing to bet money he's actually ranked second or first based on America's votes. I think he's a definite contender.
1. Dexter Roberts. Dexter had the best week (next to Malaya) this week. His soulful and tender performance earned him the top spot in the super vote results that Ryan Seacrest revealed Wednesday and he has done well in a lot of online polls.
How would you rank the American Idol 2014 Top 11?