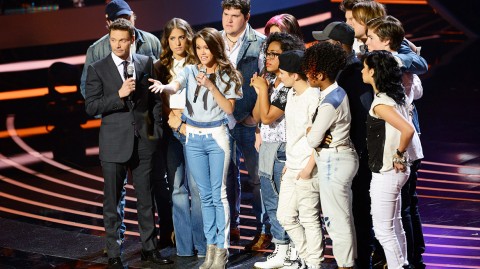 Last night on American Idol 2014 we said goodbye to Kristen O'Connor, which wasn't exactly a surprise (I put her in last place during last week's rankings). So that's one down and 11 more to go until there's a winner. But who will it be?
It might be a little too early to tell that right now, but it's not too early to do our next set of power rankings. Let's take a look at how the Top 12 look going into next week's live show.
American Idol 2014 Top 12 Power Rankings
(In descending order)
12. Malaya Watson. All it took was one week for Malaya to go from my No. 1 spot to last place. And that's not my opinion. I still like her. I just think she had a bad performance night this week. I think it's possible for her to pull herself out of the bottom next week with the right song. She actually has one of the highest amount of Twitter followers, so people are noticing her.
11. MK Nobilette. I wasn't sure what to make of MK ending up in the bottom three this week. I thought she wouldn't be there for quite some time. But now that she's there, I don't think she's going to get out of it. If Malaya has a good week next week, I think MK could be done.
10. Jena Irene. She went from wild card pick to safe this week. And I think it was because of her solid performance. I'm not read to rank her higher than 10th place, but it's possible for her to catch on with fans. She just needs to pick the right songs.
9. C.J. Harris. I think right now C.J. and Jena both have to prove themselves. Like Jena, if C.J. makes the right choices, he could find himself rising up on the list. But he will have to work hard, I think.
8. Emily Piriz. There hasn't been a girl like Emily in the competition for several seasons. I think she might stick around for a bit for all the wrong reasons. I'm not going to get into that right now, but if she wants to really stick around, she needs to up her song choice game.
7. Majesty York. I'm still sort of confused about Majesty. I really wish I knew where she ranked in votes this week. Because while I find her super cute and entertaining, I have no idea if she's catching on with others. She has a low twitter following right now, but so do most of the contestants. I think she could either go all the way or go out sooner rather than later.
6. Dexter Roberts. I think there are two kinds of country fans this season: Dexter fans and Ben fans. And I think Ben fans are winning at the moment. But like someone said in our comments section on a past post, Dexter is true country. Ben has a bit of a southern rock flare to his performance. So it might not end up being much of a battle between the two. Maybe they can co-exist.
5. Alex Preston. I think Alex is one of the best singers in the competition. I've not gotten a lot of great reader feedback with him, though (he was my early early pick to win the whole thing). But I decided to check out all Twitter accounts before writing this post. Alex has over 20,000 twitter followers. That's the second highest of the Top 12. So I moved him up a bit.
4. Ben Briley. Like I said during Dexter's ranking, I thought it was Ben vs. Dexter this season, but I'm starting to think that might not be the case. I personally think Ben is more appealing to a broader audience because he crosses genres, but you can't underestimate the county music voters by themselves. They like to vote. At any rate, I think Ben will be sticking around for a bit.
3. Jessica Meuse. I'm as confused about Jessica as I am Majesty. She's not my favorite performer, but I think she's just got the "it" factor that America will latch on to. She's a flawless performer and contract-ready, so I can't see myself ranking her any worse than third place right now.
2. Sam Woolf . It gets tricky up here because while Sam is the most popular contestant on social media (28K Twitter followers), I don't think he's the most talented singer in the contest. I think he will have a lot of teenaged girls voting for him until they tire and then one week he'll accidentally go home. So that leaves it open to the showman in this week's No. 1 spot.
1. Caleb Johnson. Caleb will either stay on top or just burn people out because of his over-performing. Right now I think people are really going to be into him and as long has he has the right songs, he'll be around for a long time. Can he win American Idol? Right  now I don't think so. But it's way too early to tell.
Who do you think is in the best position going into American Idol 2014 Top 12 week?