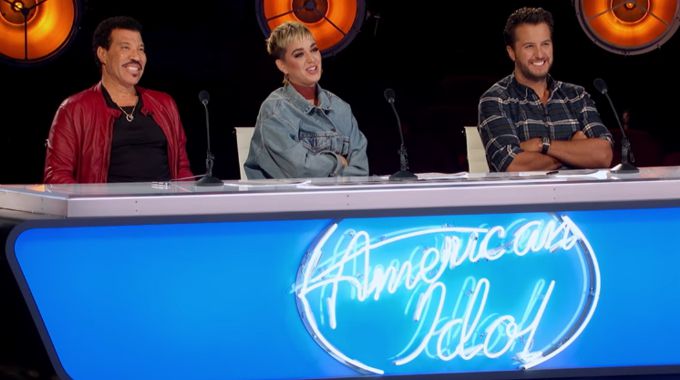 The American Idol results are set to reveal the Top 24 for Season 16 when more than half of the Hopefuls are sent home short of the live shows. Judges Lionel Richie, Katy Perry, and Luke Bryan are set to make dreams come true and crush a lot of hopes in the next few hours.
Spoilers for American Idol's Top 24 have already revealed which of the singers move on in the competition. If you can't wait for Monday's big results show then check our spoilers page for more details.
We'll be here for our live recap and updating all the Green Mile results for American Idol as the Top 50 singers go in to sit before the judges and learn their fate. There should be plenty of dramatic head fakes as ABC wants us to fear our favorites heading home or maybe even some surprise twists to the spoiler results that maybe weren't 100%, but they probably are!
American Idol 2018 Top 24 Revealed:
Layla Spring
Michael Woodard
Alyssa Raghu
Dominique Posey
Ron Bultongez
Trevor McBane
Jurnee
Shannon O'Hara
Kay Kay Alexis
Amelia Harris
Brandon Diaz
Adam Sanders A.K.A. Ada Vox
Effie Passero
Can't wait? Get the Top 14 spoilers now!
Eliminated singers:
Trevor Holmes
Thaddeus Johnson
Milo Sposato
Les Greene
Britney Holmes
William Casanova
Noah Davis
Harper Grace
Carly Moffa
Samothias Sohmer
Lee Vasi
Victoria McQueen
Laine Hardy
Maddie Zahm
Want even more results? We've got the Season 16 Top 14 singers too! Oh yes, there are even more spoilers for you.
Which singers are you most nervous to see whether or not they made the cut? This is the big pressure for who gets to move on to the semi-finals portion of the American Idol schedule this season.
Join us here for our live recap starting at 8PM ET as the Top 50 singers face off in the Showcase Round which will decide their fate on the Green Mile. Okay, it's not green and there isn't a mile to go, but it's Idol so we'll roll with it.
Want more American Idol spoilers? Join us on Facebook, Twitter, & get our Email Updates.