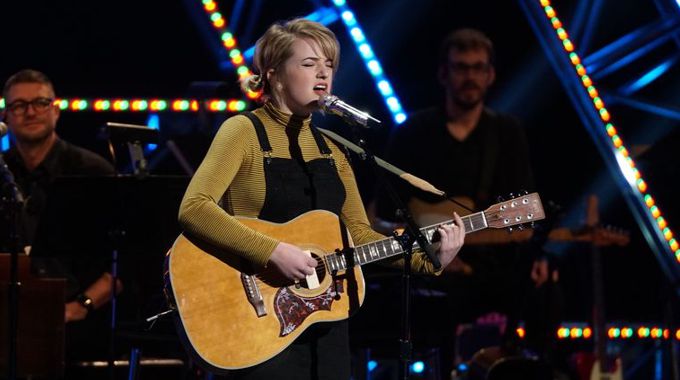 Last night on American Idol 2018, we saw some of our favorites get cut during the grueling Hollywood Week rounds. The group round was particularly brutal, but the solo performances delivered any harder challenges from many of the Hopefuls.
By the end of the show, the Hopefuls had been split into three groups with one of them being sent home just short of a major milestone. The decisions are in and we now officially know the Top 50.
The group below will perform in the Showcase round tonight and then will be cut down to the Top 24. Can't wait? We've got the Top 24 spoilers and even the Top 14 results!
The American Idol 2018 Top 50
Females – Top 24
Kay Kay Alexis
Gabby Barrett
Julia Cole
Harper Grace
Amelia Harris
Britney Holmes
Christina Jones
Jurnee
Mara Justine
Kassy Levels
Victoria McQueen
Carly Moffa
Shannon O'Hara
Effie Passero
Maddie Poppe
Alyssa Raghu
Kaitlann Runnels
Kourtney Smith
Layla Spring
Michelle Sussett
Catie Turner
Lee Vasi
Amalia Watty
Maddie Zahm
Males – Top 26
Jonny Brenns
Ephraim Bugumba
Ron Bultongez
William Casanova
Noah Davis
Brandon Diaz
Dominique
Marcio Donaldson
Cade Foehner
Les Greene
Laine Hardy
Trevor Holmes
Caleb Lee Hutchinson
Garrett Jacobs
Thaddeus Johnson
Dennis Lorenzo
Ricky Manning
Cody Martin
Trevor McBane
Stephen Quinn
Justin Ray
Adam Sanders A.K.A. Ada Vox
Samothias Sohmer
Milo Sposato
Taylor Williams
Michael Woodard
So that's 24 females and 26 males. And I'm sure, like me, some of your favorites are missing from the list. The one that really sticks out to me is Brandon Elder. His audition was my favorite and I cannot believe they didn't keep him in the competition. At any rate, I'm really disappointed. Check out his original audition again below.
I was also disappointed to see David Francisco go home. His story was so touching and his initial audition nearly had me in tears. His Hollywood Week performance wasn't the greatest, but I was still a fan and would have loved to see him move on to the next round.
Rissa Watson was another one that really hurt to see go. I thought her audition during week one, was one of the best of the season. But apparently her Hollywood Week experience didn't have the same kind of effect on the judges.
Who were you disappointed to see go home after American Idol Season 16 Hollywood Week? Who are you excited to see perform next week?
Oh, and and if you're a Spoilers kind of person, you can find out who makes it into the Top 24 even before next week's episode. Just click on that link back there.
American Idol 2018 Top 50 Photo Gallery