This week the American Idol 2016's Top 24 contestants will begin their two-week run of performances and duets with the first set revealed in photos by FOX.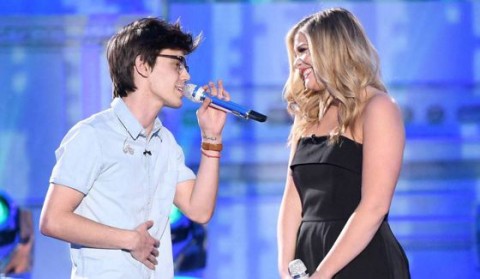 Half of the Top 24 will perform on Wednesday's episode with solos that will decide whether or not they advance to the Top 14. Then as part of Thursday's show the twelve singers who went in part one of the performances will get the chance to sing with one of six returning Idol contestants including several winners.
Here are those pairings with next week's to be revealed soon as well.
Avalon Young & Ruben Studdard
Emily Brooke & Lauren Alaina
Gianna Isabella & Nick Fradiani
James VIII & Caleb Johnson
Jenna Renae & Scotty McCreery
Jeneve Rose Mitchell & Scott McCreery
Jordan Sasser & Fantasia
La'Porsha Renae & Fantasia
MacKenzie Bourg & Lauren Alaina
Sonika Vaid & Caleb Johnson
Stephany Negrete & Ruben Studdard
Thomas Stringfellow & Nick Fradiani
Check out the gallery of photos below with a sneak peek of the performances.
click images to see full-size views