We're bringing back the weekly ranking reviews and charts for American Idol 2014. Each week we'll see where you the readers are ranking each of the remaining finalists.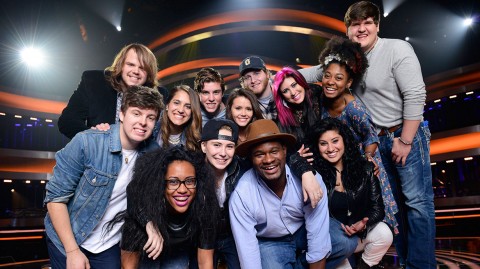 Going in to the Top 12 week we've got Caleb Johnson riding high in first place and with his high-energy, pimp spot performance last week this should be no surprise. Caleb took in 21% of your votes here in our poll last week and I'd wager he won out the official voting as well.
Following Caleb we've got Sam Woolf in second place with 10% of your votes, a slight dip from the pre-Top 13 vote at 12%. It wasn't Sam's best performance of the season, but it still managed to earn him double digits in your votes. Looks like he's got a lot of momentum to keep him going even on off-weeks.
Rounding out the Top 3 from your votes we've got a tie between Jessica Meuse and Majesty Rose. Both of these ladies saw strong growth in their numbers which gives them the opportunity to grab and stay there in the safe-zone.
Jumping to the other end of the spectrum in our poll we find Ben Briley and the eliminated Kristen O'Connor tied in last with just 3% of the vote. Considering Ben was not part of the official Bottom 3 there's clearly a disconnect between our votes and the official numbers. The rest of the Bottom 3 goes to a three-way tie between CJ Harris, Dexter Roberts, and MK Nobilette.
MK had climbed a point in the ranks over the previous week, but it wasn't enough to keep her out of the official Bottom 3 on the show or in our poll. The other two singers sharing the bottom rung here are somewhat surprising. CJ and Dexter had previously been in the first and second spots of our poll, respectively, just the week before. Perhaps a fan club flooded our poll with votes.
Don't forget to keep supporting your favorites. It's quick and easy for a high-ranking finalist to fall in to the danger zone so you don't want to let that happen to the contestants you like the best!
American Idol 2014 Top 13 Week Poll Rankings:
Caleb Johnson – 21% – up 16 points from last week
Sam Woolf – 10% – down 2 points from last week
Jessica Meuse – 9% – up 7 points from last week
Majesty Rose – 9% – up 5 points from last week
Alex Preston – 7% – up 3 points from last week
Emily Piriz – 7% – up 6 points from last week
Malaya Watson – 7% – up 2 points from last week
Jena Irene – 6% – up 1 point from last week
CJ Harris – 4% – down 25 points from last week
Dexter Roberts – 4% – down 15 points from last week
MK Nobilette – 4% – up 1 point from last week
Ben Briley – 3% – up 1 point from last week
Kristen O'Connor – 3% – up 1 point from last week – eliminated
click graph to enlarge